60% Off on Brain CT Scan in Bangalore: Starting @Rs 1312 only – Call 08061931520 to Book Now!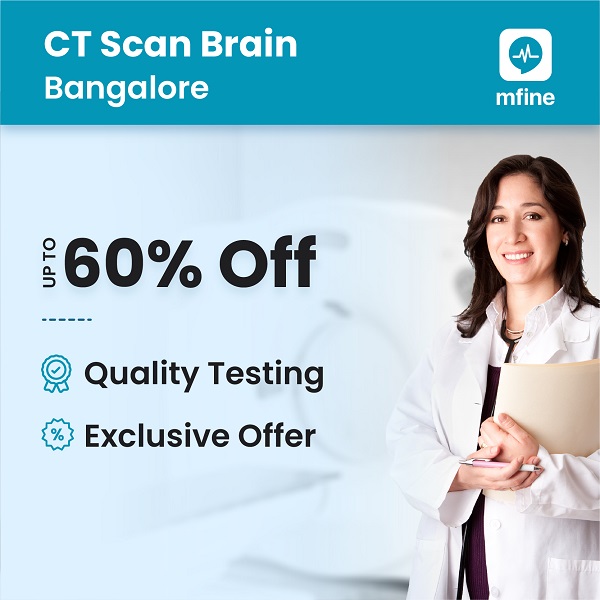 CT Scan or Computed Tomography Scan is an advanced version of a normal X-Ray procedure that uses multiple x-ray beams to create a more detailed 3-dimensional image of the brain.
We offer you high-quality lab options, and an excellent discount of 60%, for your CT Brain in Bangalore.
CT Scan Brain in Bangalore by MFine
50,000+ MRI scans completed 

Same Day Slot Available 

Affordable price in the market

Multiple labs options including Aarthi, Magnus, Clumax, and many more

₹10 lakhs saved in last 3 months
Additionally, you will get a free online doctor consultation after making a booking. 
Generally, the market price of a CT brain scan is above ₹4000 but with us, you can get it for ₹1500 only.
Avail of this exclusive offer by calling us on
Or you can fill out your details and our experts will reach you out.
Our Network Labs
| | | | |
| --- | --- | --- | --- |
| Aarthi Scans & Labs | Magnus Diagnostic Centre | Clumax Diagnostics Centre | Prima Diagnostics |
The following is the list of the most common CT scans done in Bangalore and their offer price. Note that the prices mentioned below may vary. Call us to know the updated prices.
Call us on 08061931520 or Request a call back to know the Price List and Labs near your place in Pune and make a booking at your convenient time. 
About CT Scan Brain
CT Scan refers to Computed Tomography Scan. A Computed Tomography scan is an improved scanning process to a regular X-Ray. CT scan brain is also known as CT scan head. Multiple X-Ray beams are used while performing a CT Scan on the brain/head.
These multiple beams of a CT scan project a detailed 3-dimensional image of the brain and examine any kind of injuries in the head and various other brain medical conditions such as causes of severe headaches, reasons for internal bleeding, strokes, and brain tumors if any.
CT Scan of the brain or head is mostly prescribed in the following cases.
Paralysis of different body parts

Numbness in fingers and toes

Vertigo

Dizziness

Constant headaches or migraines

Brain injury

Brain tumor

Ruptured aneurysm

Abnormalities in the middle ear bones

If surgery is coming up

Damages caused by a stroke

Loss of consciousness

To check the effectiveness of brain surgery

Enlarged brain cavities

Clotting in the brain

Damages in the bones and tissues
Why should I book a CT scan through MFine?
India's leading health tech company specializing in doctor consultations

3 lakh+ patients served so far

400+ labs and hospitals in our panel

1100+ radiology modalities offered

Money-back guarantee if anything goes wrong

120+ corporates trust us for the health checks of their employees