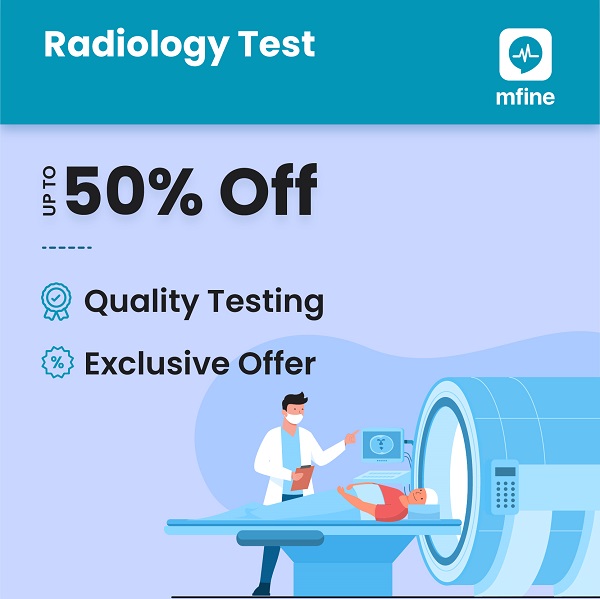 Book your MRI, CT, USG, X-ray, Echo, or any scan at top labs near you at up to 50% off through MFine – one of India's largest e-health players. We have partnered with over 300+ NABH and NABL certified labs in all cities across India, and so they offer the best quality types of assistance with a guarantee of valid reports.
We offer a discount of up to 60% on every scan that is displayed below. Avail this exclusive discount by making your booking through Mfine.
Call us now to book your test at a discounted price in the top radiology labs near you.
Or you can click on the button below to receive a callback.
Why should I book my scan through MFine?
Trust of booking through one of India's largest e-health players

1,00,000+ patients benefitted yearly

Exclusive discount of up to 60% through MFine

₹80 lakh+ saved for our customers

Assistance in getting an appointment and booking the tests in the labs near you

Highly trained customer care team
Discounted Price List
Below is the list of some of the most frequently booked radiology tests in each modality that include MRI scan, CT scan, Ultrasound, X-ray, Echo, Mammography, and many more.
MRI Scan Cost
| | |
| --- | --- |
| MRI Scan Study | Mfine Prices Starting From |
| MRCP | ₹3000 |
| MRI Ls Spine | ₹2200 |
| MRI Scan Ankle Joint | ₹2200 |
| MRI Scan Brain | ₹2100 |
| MRI Scan Spine Cervical | ₹2200 |
| MRI Scan Thigh | ₹2250 |
| MRI Scan Whole Abdomen | ₹2250 |
| MRI Scan Chest | ₹2200 |
| MRI Scan Knee | ₹2200 |
| MRI Scan Elbow | ₹2200 |
| MRI Scan Upper Abdomen | ₹2200 |
| MRI Scan Hip Joint | ₹2200 |
| MRI Scan Wrist | ₹2200 |
| MRI Scan KUB | ₹2200 |
| MRI Scan Brain Contrast | ₹3000 |
| MRI Scan Whole Abdomen Contrast | ₹5100 |
| MRI Scan Wrist Contrast | ₹3800 |
If you are not able to find your MRI scan study in the table above, feel free to call us on 08061970525
CT Scan Cost
| | |
| --- | --- |
| CT Scan Study | Mfine Prices Starting From |
| CT Scan Chest | ₹1200 |
| CT Scan Whole Abdomen | ₹2000 |
| CT Scan Thigh | ₹2300 |
| CT Scan KUB | ₹2050 |
| HRCT Scan Chest | ₹1000 |
| CT Scan Brain | ₹1000 |
| CT Scan Spine Per Part | ₹1200 |
| CT Scan PNS | ₹930 |
| CT Scan Neck | ₹1550 |
| CT Scan Pelvis | ₹1800 |
| CT Brain Contrast | ₹1330 |
| CT Chest Contrast | ₹2600 |
| CT KUB Contrast | ₹3400 |
| CT Neck Contrast | ₹2200 |
If you are not able to find your CT scan study in the table above, feel free to call us on 08061970525
Doppler Price
| | |
| --- | --- |
| Doppler Scan | Mfine Prices Starting From |
| Doppler Abdomen | ₹1250 |
| Arterial Doppler Single limb | ₹800 |
| Doppler Obstetric | ₹1350 |
| Doppler Carotid | ₹900 |
| Doppler Pelvis | ₹1200 |
| Doppler Renal | ₹1200 |
| Doppler Scrotal / Testicular scan | ₹600 |
| Venous Doppler Single limb | ₹800 |
If you are not able to find your Doppler scan study in the table above, feel free to call us on 08061970525
Ultrasound Price
| | |
| --- | --- |
| Ultrasound Scan | Mfine Prices Starting From |
| Ultrasound Breast Both | ₹600 |
| Ultrasound Chest | ₹300 |
| Ultrasound Fibroscan | ₹2000 |
| Ultrasound-Guided Biopsy | ₹1530 |
| Ultrasound Follicular Study Multiple Visit | ₹850 |
| Ultrasound Hip | ₹700 |
| Ultrasound Knee | ₹900 |
| Ultrasound KUB | ₹250 |
| Ultrasound Level 2 | ₹595 |
If you are not able to find your Ultrasound scan study in the table above, feel free to call us on 08061970525
X-ray Scan Price
| | |
| --- | --- |
| X-ray Scan | Mfine Prices Starting From |
| X-ray Chest AP View | ₹150 |
| X-ray Abdomen AP View | ₹210 |
| X-ray Ankle AP & Lateral Views | ₹250 |
| X-ray Ankle Joint AP View | ₹200 |
| X-ray Ankle Lateral View | ₹200 |
| X-ray Cervical Spine AP View | ₹200 |
| X-ray Cervical Spine AP & Lateral Views | ₹300 |
| X-ray Cervical Spine Lateral View | ₹200 |
If you are not able to find your X-Ray study in the table above, feel free to call us on 08061970525
Other Radiology Scans Price
| | |
| --- | --- |
| Radiology Scans | Mfine Prices Starting From |
| ECG Test | ₹150 |
| ECHO Test | ₹700 |
| EEG Test | ₹500 |
| Fetal Echo | ₹1530 |
| Mammography Breast Single | ₹720 |
| Mammography Breast Both | ₹800 |