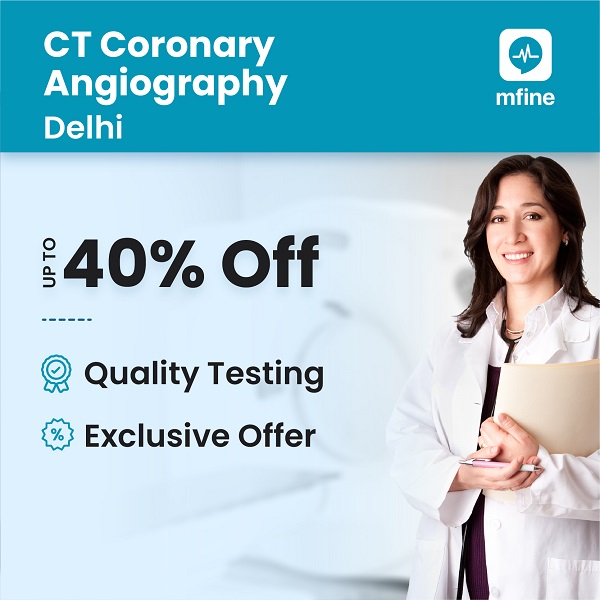 CT scan is an abbreviated form of a Computed Tomography scan. CT scan is an advanced mechanism composed of an X-Ray and a special computer to project the images of organs, bones, and tissues.
MFine offers you high-quality lab options and an excellent discount of 40% for your CT Coronary Angiography Scan in Delhi.  
CT Coronary Angiography Scan in Delhi by MFine
Trust of booking through one of India's largest e-health players 

10,000+ CT Coronary Angiography scans completed 

Starting from ₹8315 – Lowest price in the market

30+ lab options including Mahajan Imaging, City X-Ray, Artemis, and many more

₹25 lakhs saved in last 3 months
Generally, the market price of the CT Coronary Angiography scan is ₹15,000 but with us, you can get it for ₹8315 only.
Avail of this exclusive offer by calling us on
Or you can click on the button below for us to call you back. 
Additionally, you will get a free online doctor consultation after making a booking. 
About CT Coronary Angiography
CT angiography also knows as CT angiogram or CT coronary angiography is an imaging technique to examine the blood vessels carrying blood from the heart. It is an effective tool to detect any abnormalities in the arteries that may cause life-threatening problems.
CT angiography is quick and non-invasive. It is normally done to detect and diagnose the causes of chest pain and other symptoms related to heart diseases.

CT coronary angiography scan requires at least 12 hours of fasting before the scan due to the use of a contrast agent. It helps to get a detailed picture of the blood flow to your heart. The contrast agent will be either given orally or will be injected into the vein.
You should lie down on a table that slides into the CT machine. Once you are inside the machine, the X-ray beams will pass through your chest. A special computer will use the signals and convert them into an image.
The entire procedure will take up to 30 minutes depending on your study which will be monitored by a radiologist from a different room.
A CT scan has a minimal risk as you will be exposed to radiation during the procedure. It is considered quite safe, but there are chances of developing cancer if you take it more often. 
Why should I book a CT Coronary Angiography scan through MFine?
India's leading health tech company specializing in doctor consultations

3 lakh+ patients served so far

400+ labs and hospitals in our panel

1100+ radiology modalities offered

Money-back guarantee if anything goes wrong

120+ corporates trust us for the health checks of their employees
Prerequisites for CT Coronary Angiography
The following are the prerequisites for a CT coronary angiography.
Minimum 4 hrs fasting required before the scan and do not exercise on the day of the test as the heart rate should be normal.

If you have any latest Blood Urea and Creatinine test, take those reports along with you.

In case of any previous medical checkups or scan reports, it is advisable to take those reports to the lab.
Other Topics You May Be Interested In:-