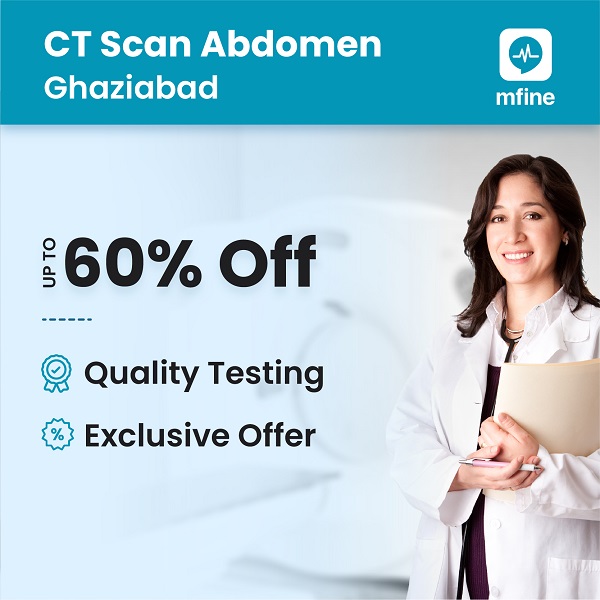 CT Scan or Computed Tomography Scan is an advanced version of a normal X-Ray procedure that uses multiple X-Ray beams to create a more detailed 3-dimensional image of the abdomen.
We offer you high-quality lab options, and an excellent discount of up to 60%, for your CT Abdomen in Ghaziabad.
CT Scan Abdomen in Ghaziabad by MFine
Trust of booking through one of India's largest e-health players

5000+ CT abdomen scans completed

₹2100 Lowest price in the market

Multiple lab options including Molecular Imaging, Vrinda Diagnostics, and many more

₹15 lakhs saved in last 3 months
Generally, the market price of a CT scan whole abdomen is above ₹5000 but with us, you can get it for ₹2100 only.
Avail of this exclusive offer by calling us on
Or you can click on the button below for us to call you back. 
Additionally, you will get a free online doctor consultation after making a booking. 
The following is the list of the most common CT abdomen scans done in Ghaziabad and their offer price. Note that the prices mentioned below may vary. Call us to know the updated prices.
CT Abdomen Cost in Ghaziabad

Offer Price

CT Scan Whole Abdomen Price in Ghaziabad

₹2700

CT Scan Whole Abdomen Contrast Price in Ghaziabad

₹4900

CT Scan Lower Abdomen Price in Ghaziabad

₹2700

CT Scan Lower Abdomen Contrast Price in Ghaziabad

₹3700

CT Scan Upper Abdomen Price in Ghaziabad

₹2100

CT Scan Upper Abdomen Contrast

 

Price in Ghaziabad

₹3600
Call us on 08061970525 to know the lab options near your place in Ghaziabad and make a booking at your convenient time. 
Why should I book a CT scan through MFine?
India's leading health tech company specializing in doctor consultations

3 lakh+ patients served so far

400+ labs and hospitals in our panel

1100+ radiology modalities offered

Money-back guarantee if anything goes wrong

120+ corporates trust us for the health checks of their employees
About CT Scan Abdomen
CT Scan Abdomen is done to examine the abdominal parts and the organs around it, such as the pancreas, liver, kidneys, spleen, adrenal glands, and the gastrointestinal tract. A doctor usually prescribes a CT Scan Abdomen to check for the cause of unusual abdominal pain or as a follow-up scan due to some irregular results from a test like ultrasound.
Why A CT Scan Abdomen Is Prescribed?
CT Scan of the abdomen or head is mostly prescribed in the following cases.
Abdominal pain

Kidney stones

Unexplained weight loss

Appendicitis

Intestinal obstruction

Injuries following trauma

Cancer diagnosis
Prerequisites for CT Scan Abdomen
The following are the prerequisite for a CT scan abdomen if the contrast dye is used in the procedure.
Minimum 4 hrs fasting required before the scan.

It is advisable to take the latest Creatinine & Blood Urea reports with you.

If you have any prior consultations and such medical scans/reports take those reports to the lab.