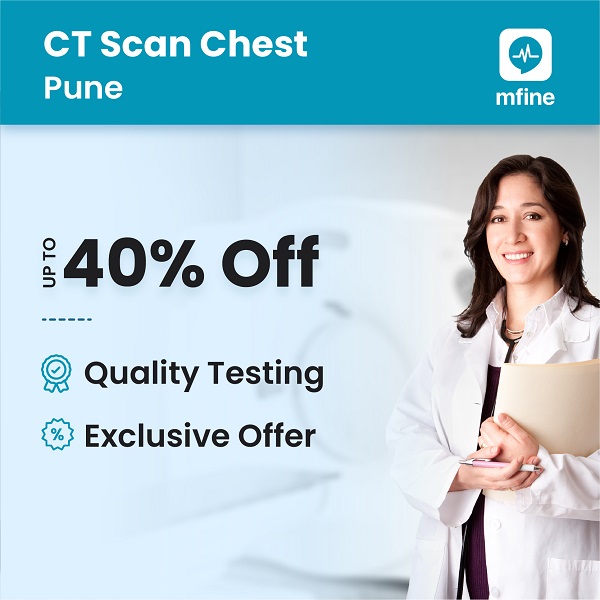 CT Scan or Computed Tomography Scan is an advanced version of a normal X-Ray procedure that uses multiple x-ray beams to create a more detailed 3-dimensional image of the chest.
We offer you high-quality lab options, and an excellent discount of up to 40%, for your CT Chest in Pune.  
CT Scan Chest in Pune by MFine
Trust of booking through one of India's largest e-health players

7,500+ Chest CT scans completed

₹3400 – Lowest price in the market

Multiple lab options including Shree Hospital, Nidan Diagnostics, and other certified labs

₹10 lakhs saved in last 3 months
Generally, the market price of a CT scan chest is above ₹5000 but with us, you can get it for ₹3400 only.
Avail of this exclusive offer by calling us on
Or you can click on the button below for us to call you back. 
The following is the list of the most common Chest CT scans done in Pune and their offer price. Note that the prices mentioned below may vary. Call us to know the updated prices.
| | |
| --- | --- |
| CT Scan Chest Cost in Pune | Offer Price |
| CT Scan Chest Price in Pune / NCCT Chest | ₹3440 |
| CT Scan Chest Contrast Price in Pune / CECT Chest | ₹4400 |
| HRCT Scan Chest Price in Pune | ₹3400 |
| HRCT Scan Chest Contrast Price in Pune | ₹4840 |
Call us on 08061970525 to know the lab options near your place in Pune and make a booking at your convenient time. 
Why should I book a CT scan through MFine?
India's leading health tech company specializing in doctor consultations

3 lakh+ patients served so far

400+ labs and hospitals in our panel

1100+ radiology modalities offered

Money-back guarantee if anything goes wrong

120+ corporates trust us for the health checks of their employees
About CT Scan Chest
CT Scan refers to Computed Tomography Scan. CT Scan Chest is also known as CT Scan Thorax. Multiple x-ray beams are used while performing a CT scan on the chest/thorax. In fact, Computed Tomography scanning is an advanced imaging process to regular X-rays.
CT scan chest is usually done to identify and diagnose various lung-related disorders. CT scan helps in diagnosing lung cancer (during early stages) as they provide very detailed images of the lungs, aiding in better treatment methods.
CT Scan of the thorax or head can help in detecting the following medical conditions
Lung cancer

Tumor

Blood clots

Internal injuries

Infection

Intrathoracic bleeding

Pneumonia

Tuberculosis
Different Types Of CT Scan Chest
There are broadly three different types of CT scan chest studies available. They are
1) NCCT Chest Scan
NCCT Chest Scan refers to Non-Contrast Computed Tomography Chest Scan. It is a normal CT scan of the chest or thorax.
2) CECT Chest Scan
CECT Chest Scan refers to Contrast-Enhanced Computed Tomography Chest Scan. This procedure is supposed to give better-enhanced images of the chest as compared to the normal Chest CT Scan. A radioactive substance or a contrast dye is given to the patient either orally or injected into the vein before the procedure. This substance is absorbed by the body and interacts with the CT Scan to give clear images during the scan.
3) HRCT Chest Scan
HRCT scan refers to a High-Resolution Computed Tomography scan. HRCT scan chest is slightly different from a normal CT scan chest. HRCT chest uses narrow beam collimation to take thin slice images that provide more accurate images of the lungs.
Prerequisites For CT Scan Chest
Follow these simple steps before going for the CT scan chest:
Metal instruments like watches, jewelry, piercings, credit/debit cards, pocket knives, p

ens & eye lenses must be removed.

Take off the hearing aids, if any.

Don't go inside the chambers with spectacles on.

Take off the braces from your teeth.

No hairpins, safety pins, metal zippers are to be taken inside.

Fasting is required for a specific number of hours (as instructed by your doctor) before the test if the contrast material is going to be used.
Other Topics You May Be Interested In:-