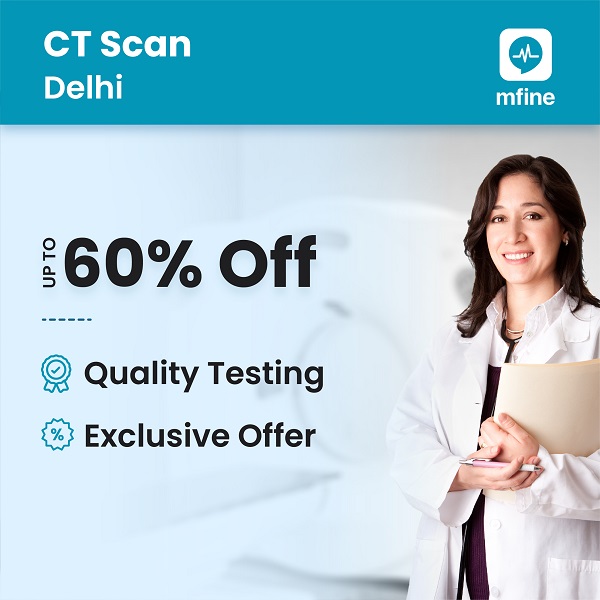 Get a discount of upto 50% off on CT scan costs in Bangalore while still enjoying high-quality lab options. Generally, the market price of a CT scan cost in Bangalore is above ₹3000, but with us, you can get it for ₹931 only. 
Avail of this exclusive offer by calling us on
Or you can click on the button below for us to call you back. 
Additionally, you will get a free online doctor consultation after making a booking.
CT Scan in Delhi by MFine
Trust of booking through one of India's largest e-health players 

20,000+ CT scans completed 

Starting at

₹ 931

& Lowest Price Guarantee

Multiple labs options, including Aarthi diagnostic, Prima diagnostic, Ebisu diagnostic, Image diagnostic, and Clumax diagnostic

₹ 75 lakhs saved in last 3 months
CT Scan Cost in Delhi
Provided below is a compilation of the commonly conducted CT scans in Delhi, accompanied by their respective offer prices. Keep in mind that the indicated prices are liable to fluctuations. Feel free to get in touch with us for the latest pricing details.
| | |
| --- | --- |
| CT Scan Price In Delhi | Starting From |
| CT Brain Price in Delhi | ₹931 |
| CT Spine Cervical Price in Delhi | ₹1553 |
| CT KUB Price in Delhi | ₹2250 |
| CT Chest Price in Delhi | ₹3150 |
| HRCT Chest Price in Delhi | ₹3740 |
| CT Pelvis Price in Delhi | ₹1800 |
| CT Neck Price in Delhi | ₹1553 |
| CT Whole Abdomen Price in Delhi | ₹2500 |
| CT Hip Joint Price in Delhi | ₹1800 |
| CT Brain Contrast Price in Delhi | ₹2000 |
| CT Chest Contrast Price in Delhi | ₹4640 |
| CT Whole Abdomen Contrast Price in Delhi | ₹5500 |
For lab options near your location in Delhi and to make a booking at your preferred time, please call us at ☏08061970525.
Why should I book a CT Scan through MFine?
India's leading health tech company specializing in doctor consultations

3 lakh+ patients served so far

400+ labs and hospitals in our panel

1100+ radiology modalities offered

Money-back guarantee if anything goes wrong

120+ corporates trust us for the health checks of their employees
Exclusive Benefits with MFine
(1) Certified labs
Get access to over 600+ labs certified by NABL and NABH
(2) Same-day slot available
Get scans done on the same day
(3) Quick and convenient
Get reports in 12 hours and digital films in 15 – 20 minutes
(4) FREE Consultation
Post scans, consult a doctor for free to review your report
Why would a doctor order a CT scan?
If your doctor recommends a CT scan, it might be for the subsequent purposes:
Swift detection of internal injuries or bleeding:

CT scans play a crucial role in promptly identifying potential internal injuries or bleeding that may require immediate medical attention.

Diagnosis of muscle and bone conditions:

A CT scan assists in diagnosing various muscle and bone disorders, aiding in accurate diagnoses.

Precise localization of blood clots, infections, and tumors:

With the help of CT scans, the exact locations of issues like blood clots, infections, and tumors can be precisely determined, facilitating accurate diagnostic evaluations.

Monitoring of conditions, including cancer, heart, liver, or lung diseases:

CT scans are invaluable in monitoring the progression of conditions like cancer, heart ailments, liver issues, and lung diseases, enabling healthcare professionals to make informed choices about ongoing care.

Evaluation of treatment effectiveness:

Medical practitioners use CT scans to evaluate how treatments are progressing, ensuring that the chosen interventions are achieving the desired outcomes.

Guidance for critical procedures like surgeries, biopsies, and radiation therapy:

CT scans provide comprehensive imaging guidance during critical procedures such as surgeries, biopsies, and radiation therapy, enhancing precision and aiding in successful outcomes.

Preparing your child for a CT scan
When your toddler needs a CT scan, the doctor could recommend giving them a sedative to help them feel calm and stay still. Have a conversation with your doctor to learn how to prepare your child for the CT scan.
What to expect during a CT scan?
During the procedure
Modern CT scans are comfortable and quick, taking only a few minutes to scan your body or organs, but the whole process may take around 30 minutes.
(1) How the Machine Looks: The CT scanner looks like a standing doughnut machine. There's also a slideable table that moves through the doughnut-shaped hole. This table has straps and pillows and a special head folder to help in case your head needs scanning.
(2) How Scanning Happens: While you're on the table, a machine with X-rays and detectors goes around you in a circle. It takes pictures of your body in thin slices as it moves. Sometimes, you might hear some buzzing and whirring sounds during this.
(3) Who's Watching: There's a person called a technologist in another room who keeps an eye on the scan. If you want to talk to them, there's a way to chat through a speaker system.
(4) Holding Your Breath: To make sure the pictures are clear, the technologist might ask you to hold your breath for a short time during the scan.
(5) When They Scan Your Head: If they're looking at your head, they use a special holder to keep it still. The scanning process is kind of similar, but they're careful to make sure your head doesn't move much.
After the procedure
You're all set to head home and resume your usual activities. In case you got contrast material, the doctors might want you to wait for a while before they give you the green signal to go home. They could also suggest drinking plenty of water or fluids to help your kidneys clear out the contrast material.
Read more about the types of X-rays, preparations, risks, and more here.
FAQs
What does a CT scan of the liver show? 
A CT scan of the liver provides detailed images of the liver's internal structures, including its size, shape, and blood vessels. It can help identify abnormalities such as tumors, cysts, abscesses, and other structural issues.
Can a CT scan detect liver damage?

 
Yes, a CT scan can detect liver damage by revealing changes in the liver's texture, size, and shape. It can show signs of scarring, inflammation, or other damage caused by various conditions, such as hepatitis, alcohol abuse, or fatty liver disease.
Does a CT scan show liver cancer?
Yes, a CT scan can show liver cancer (hepatocellular carcinoma). It can help visualize tumors, their size, location, and extent of spread within the liver. CT scans are commonly used for diagnosing and monitoring liver cancer.
Can CT scan detect fatty liver?

 
Yes, a CT scan can detect fatty liver by assessing the liver's density and texture. A condition called non-alcoholic fatty liver disease (NAFLD) can be identified through characteristic patterns in CT images.
Is CT or ultrasound better for the liver?

 
Both CT and ultrasound have their advantages in liver imaging. CT scans provide more detailed images and can detect a wider range of liver conditions. Ultrasound is safer, non-invasive, and can offer real-time imaging, but it might be less detailed in certain cases.
Is MRI better than a CT scan for the liver?

 
MRI can provide similar or sometimes better image quality than CT scans for liver imaging, especially for certain types of liver conditions like assessing bile ducts and differentiating between benign and malignant lesions. The choice between MRI and CT depends on the specific clinical situation.
Does a CT scan show liver cirrhosis?

 
Yes, a CT scan can show signs of liver cirrhosis. Cirrhosis causes structural changes in the liver, such as scarring and changes in liver size and shape. These changes can often be detected through CT imaging.
Disclaimer: Please keep in mind that medical decisions and interpretations should always involve consultation with a qualified healthcare professional, as they can provide personalized advice based on individual medical histories and conditions.
Other topics you may be interested in reading: