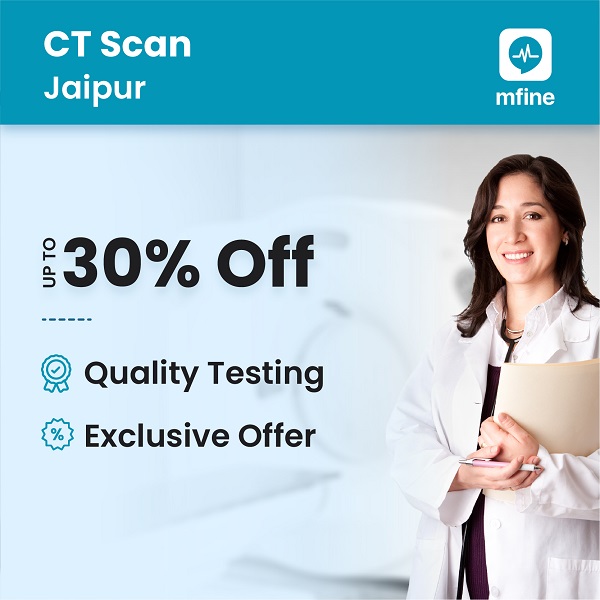 A Computed Tomography scan is abbreviated as a CT scan. This scan is an effective mechanism to project the visuals of the inner parts of your body. CT scan is a combination of a special computer and an X-ray machine to create images of bones and organs under the tissue.
MFine offers you high-quality lab options, and an excellent discount of 30%,  for your CT Scan in Jaipur.
CT Scan in Jaipur by MFine
Trust of booking through one of India's largest e-health players 

10,000+ CT scans completed 

Starting from ₹1271 – Lowest price in the market

30+ lab options including Metro MAS Hospital, DKM Diagnostics, and Dr. Goyal's Path Lab, and many more

₹25 lakhs saved in last 3 months
Generally, the market price of a CT scan cost in Jaipur is above ₹3000 but with us, you can get it for ₹1271 only. 
Avail of this exclusive offer by calling us on
Or you can click on the button below for us to call you back. 
Additionally, you will get a free online doctor consultation after making a booking. 
The following is the list of the most common CT scans done in Jaipur and their offer price. Note that the prices mentioned below may vary. Call us to know the updated prices.
| | |
| --- | --- |
| CT Scan Cost In Jaipur | Starting From |
| CT Brain Price in Jaipur | ₹1271 |
| CT Spine Cervical Price in Jaipur | ₹2541 |
| CT KUB Price in Jaipur | ₹2450 |
| CT Chest Price in Jaipur | ₹2965 |
| HRCT Chest Price in Jaipur | ₹3500 |
| CT Pelvis Price in Jaipur | ₹4250 |
| CT Neck Price in Jaipur | ₹2730 |
| CT Whole Abdomen Price in Jaipur | ₹3811 |
| CT Hip Joints Price in Jaipur | ₹3825 |
| CT Brain Contrast Price in Jaipur | ₹1800 |
| CT Chest Contrast Price in Jaipur | ₹3388 |
| CT Whole Abdomen Contrast Price in Jaipur | ₹5082 |
Call us on 08061970525 to know the lab options near your place in Jaipur and make a booking at your convenient time. 
Why should I book a CT scan through MFine?
India's leading health tech company specializing in doctor consultations

3 lakh+ patients served so far

400+ labs and hospitals in our panel

1100+ radiology modalities offered

Money-back guarantee if anything goes wrong

120+ corporates trust us for the health checks of their employees
What Are The Body Parts Covered In CT?
The CT scan is a high-tech mechanism that can be used to examine the blood vessels, bones, and soft tissues in different parts of the human anatomy. The CT scan is commonly prescribed to visualize
Heart

Shoulders

Head

Abdomen

Spine

Chest

Knee
Why Is A CT Scan Done?
The CT scan helps to detect and diagnose various diseases. It is also prescribed to assess any bone damage or injuries. It is an effective tool to
Diagnose bone and muscle disorders. e.g. fractures, bone tumors, etc

Locate the tumor, infection, etc

Examine the blood vessels

Monitor the progress of the ongoing treatment of the medical prognosis

Plan for guided biopsies

Detect internal injuries or bleeding
Most importantly, the CT scan is done in an emergency situation as the results of the imaging process are quick compared to MRI or any other imaging process.
How To Prepare For The Scan?
Generally, to take a CT scan, you can continue with your regular activities, it does not require any special arrangements or diet before the scan. For better and enhanced images you may be requested to change into loose clothing i.e. a gown provided by the lab. Further note, metallic contents inside the CT room will not be allowed as they may interfere with the machine's radio waves, leading to incorrect imaging.
For CT scan with contrast, a contrasting dye may be used to generate enhanced images of the scanned body part. It may be either injected in your vein or given as a capsule orally. So in the case of contrast CT scans, you will be given additional information and instructions regarding it from your doctor.
How Is The Procedure Performed?
CT scan is a comprehensive imaging process but quick and non-invasive. It uses the X-Ray mechanism to create images of the body parts. The machine has a table attached to it(for the patient to lie down). The horizontal table then goes into the center of the CT machine to produce images.
The X-ray tool in the CT machine will circulate around the body part that is to be examined and takes several pictures in slices. The machine will exhibit a clicking and whirring sound throughout the procedure. The table might move front and back to get a complete image of the body part.
It is vital not to change positions or move your body, remaining still throughout the procedure is a must. Sometimes, you may be asked to hold your breath for a few seconds to erect a comprehensive picture.
A radiologist will be observing the whole test procedure from the nearby chamber with the help of a mic and speakers
It usually takes less than 30 minutes to complete a CT scan.
What Are The Risks Involved?
The CT scan doesn't have any serious risk involved, however, that can be limited. CT scan is generally considered safe imaging. But if you take multiple CT scans within a short period or regularly, there are chances of developing cancer as the X-ray used in the scan exposes the body to radiation.
It is also not advised to take a CT scan if you are in the pregnancy phase are expected to become pregnant in a while. This is because the radio frequencies may sometimes harm the growing baby. So if you are a pregnant woman, the doctor may ask you to take other imaging techniques such as ultrasound which are relatively much harmless.
If you have allergic reactions to iodine or contrast dye it is recommended to disclose it to your doctor before the scan because the contrast material used for imaging may sometimes trigger allergic reactions. There is also a minute risk of kidney failure due to the use of contrast substances but this situation is very rare.
Other Topics You May Be Interested In:-