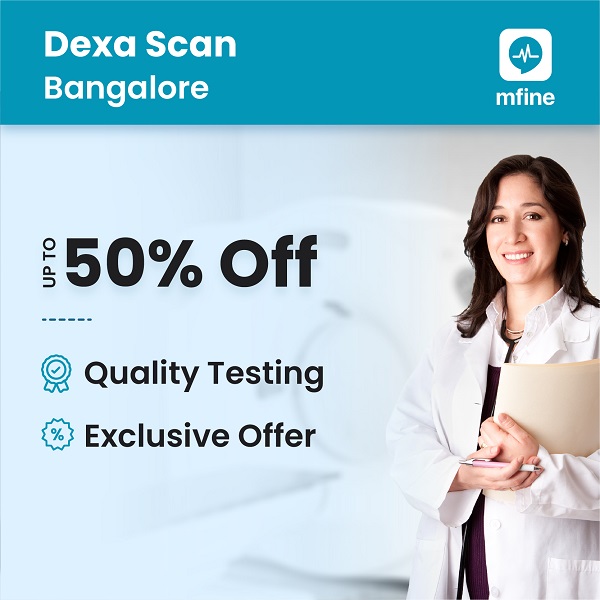 Dexa Scan or Dual Energy X-Ray Absorptiometry is a special type of X-ray that measures the strength and density of the bones. It is also known as the Bone Mineral Density / BMD test and Bone Densitometry test. 
We offer you high-quality lab options, and an excellent discount of 50%, for your Dexa Scan in Bangalore.
Avail of this exclusive offer by calling us on
Or you can click on the button below for us to call you back. 
Additionally, you will get a free online doctor consultation after making a booking. 
Dexa Scan in Bangalore by MFine
Trust of booking through one of India's largest e-health players 

Over 3800 DEXA scans completed 

₹935 – Lowest price in the market

Multiple labs options including Sampige Onco Diagnostics, Magnus, Clumax Diagnostics, and many more

₹20 lakhs saved in last 3 months
Generally, the price of a single site Dexa Scan Cost in Bangalore is above ₹2000 but with us, you can get it for ₹935 only.
The following is the list of various Dexa scan studies in Bangalore and their prices. Note that the prices mentioned below may slightly vary from the actual. So, kindly call us to know the updated prices.
| | |
| --- | --- |
| Bone Scans or Dexa Scans in Bangalore | Prices Starting From |
| Dexa Scan One Site Price in Bangalore | ₹935 |
| Dexa Scan Two Site Price in Bangalore | ₹2040 |
| Dexa Scan Three Site Price in Bangalore | ₹2558 |
| Dexa Scan Spine Price in Bangalore | ₹1620 |
| Whole Body Dexa Scan Price in Bangalore | ₹2800 |
Call us on 08061970525 to avail of the offer and to book an appointment.
Why should I book my test through MFine?
India's leading health tech company specializing in doctor consultations

3 lakh+ patients served so far

400+ labs and hospitals in our panel

1100+ radiology modalities offered

Money-back guarantee if anything goes wrong

120+ corporates trust us for the health checks of their employees
About Dexa Scan
Dexa scan is a special type of X-Ray done to examine the density level of the bone. Low bone density means the bones are fragile and lack nutrients and it may increase the risk of fracturing your bones more frequently or even from a small accident/injury. Dexa Scan is an effective tool to diagnose osteoporosis, a medical condition of weakened bones that increases the risk of fractures.
Your doctor will ask for a Dexa scan report when he/she suspects that your bone density is lower than the normal levels of someone with your age and gender.
Dexa scan uses the following two types of mechanisms to inspect the bone density depending on the body part that needs to be scanned –
Central device: Used to evaluate the bones present in the hip and spine area
Peripheral device: Used to examine the bones in the wrist, heel, and finger.
Just like any other imaging machine, the Dexa scan machine has an open table attached to the imaging arm on which you will be asked to lie down, focusing the particular body part near the imaging arm. Then the imaging arm moves slowly over the region, thus initiating the scanning process. Unlike MRI which uses radiation, the DEXA scan is taken with the help of a beam of low dosage energy that will be penetrating into your body to picture the images of the bones. The processed images of the bones will interpret the details of your bone density.
Generally, it will take about 20 minutes to complete a Dexa Scan.
Prerequisites For Dexa Scan
You will be asked to stop taking calcium supplements two days before the test.
Other than this, there is no special preparation required to do before the Dexa scan. You can continue with your usual diet and regular activities before the procedure.
Other Topics You May Be Interested in:-