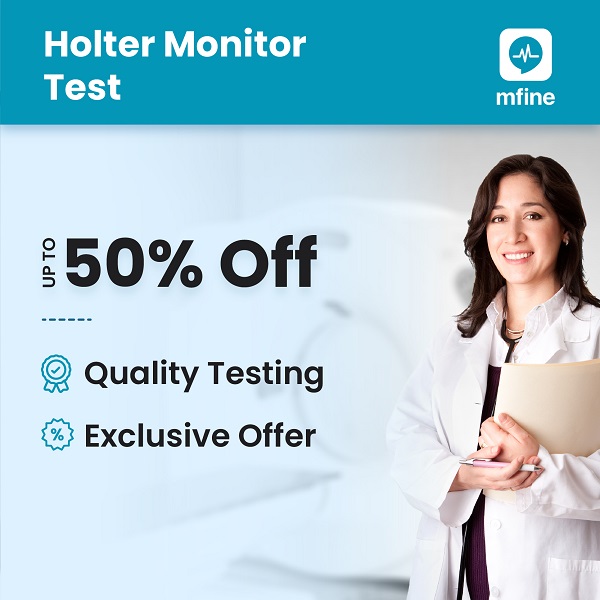 A Holter monitor is a heart monitor machine that records the heart's rhythms over 24 to 48 hours. Holter monitor test is done to diagnose arrhythmia (irregular heartbeat).
MFine offers you multiple high-rated lab options,  and an excellent discount of up to 50%, for your Holter Monitor test cost in India.
Holter Monitor Test In India By MFine
Trust of booking through one of India's largest e-health players 

10,000+ Holter Monitor Tests completed 

₹1500 – Lowest price in the market

Multiple lab options across India

₹5 lakhs saved in last 3 months
Holter Monitor Test Cost In India Through MFine
Generally, the market price of a Holter Monitor Test is above ₹3,000 but with us, you can get it for ₹1,500 only. 
Avail of this exclusive offer by calling us on
Or you can click on the button below for us to call you back. 
Additionally, you will get a free online doctor consultation after making a booking. 
The following is the list of the Holter Monitor test offer price in different cities. Note that the prices mentioned below may vary. Call us to know the updated prices.
| | |
| --- | --- |
| Holter Monitor Test Cost In India | Offer Price |
| Holter Monitor Test in Gurgaon | ₹2400 |
| Holter Monitor Test in Mumbai | ₹2375 |
| Holter Monitor Test in Thane | ₹2375 |
| Holter Monitor Test in Pune | ₹2618 |
| Holter Monitor Test in Hyderabad | ₹2360 |
| Holter Monitor Test in Chennai | ₹3000 |
| Holter Monitor Test in Bangalore | ₹1900 |
| Holter Monitor Test in Kolkata | ₹1500 |
| Holter Monitor Test in Jaipur | ₹2250 |
If you are not able to find your city in the above list, feel free to call us on 08061970525 to know the lab options near your place and make a booking at your convenient time. 
Why Should I Book Holter Monitor Test Through MFine?
India's leading health tech company specializing in doctor consultations

3 lakh+ patients served so far

400+ labs and hospitals in our panel

2100+ radiology and pathology modalities offered

Money-back guarantee if anything goes wrong

120+ corporates trust us for the health checks of their employees
What Is A Holter Monitor Test?
A Holter monitor is a small, wearable device and type of portable electrocardiogram (ECG). This device measures and records the heart's activity (rate and rhythm) continuously over 24 to 48 hours depending on the type of monitor used.
Holter monitor testing is also sometimes referred to as ambulatory electrocardiography. A standard ECG shows a complete picture of the heart's overall electrical activity. Generally, doctors use ECGs to diagnose heart problems. When the ECG report is inconclusive, doctors may prescribe Holter monitor testing.
Why Is Holter Monitor Test Done?
A Holter monitor test is done to
Detect abnormalities in the heartbeat (arrhythmia).

Find reasons for heart palpitations or unexplained dizziness.

Monitor if your heart is getting enough oxygen.

Assess the effectiveness of the heart medications prescribed.

Check if the pacemaker is working.
How Is The Test Performed?
A lab technician will attach the electrodes – small, round, sticky patches to your chest. He will place the monitor and connect it to the electrodes. You can carry the heart monitor in a pocket or bag tied around to your waist. You can carry out your daily activities while you wear the monitor.
Keep a track of all the activities while wearing the monitor, and write down the symptoms such as shortness of breath, skipped or uneven heartbeats and chest pain you felt during the activities. Make sure to note down the time of occurrence and the activity you were during at that time.
After a 24 or 48 hrs period, you can return the monitor to the lab. The lab technician will process the records, and your notes, and provide the report.
What Are The Precautions To Be Taken Before The Test?
There are no special preparations required for this test. The technician may ask you to shave your chest to attach the electrodes.
You can carry out your daily activities except the following.
Don't bathe, shower or swim.

Don't get your X-rays done.

Don't go near high-voltage areas, metal detectors, strong magnets, and microwaves.