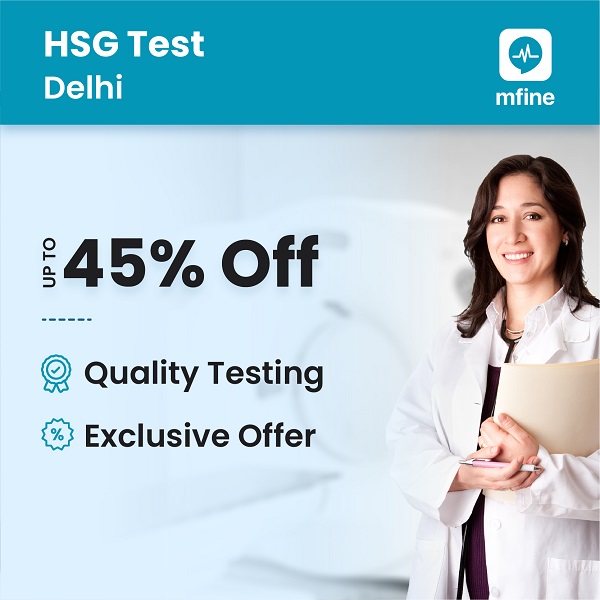 Hysterosalpingography (HSG) is prescribed to evaluate the shape of the uterus and check whether the fallopian tubes are open. HSG test is also used to analyze the problems in the uterus if you had multiple miscarriages.
We offer you high-quality lab options, and an excellent discount of 45%, for your Hysterosalpingography (HSG) test price in Delhi.
Hysterosalpingography (HSG) Test in Delhi by MFine
Trust of booking through one of India's largest e-health players 

5000+ Hysterosalpingography (HSG) test completed in Delhi

₹2000 – Lowest price in the market

Multiple labs options including City Imaging, Premium Clinic, and many more

₹10 lakhs saved in last 3 months
Generally, the market price for Hysterosalpingography (HSG) test is above ₹5000 but with us, you can get it for ₹2000 only.
Avail of this exclusive offer by calling us on
Or you can click on the button below for us to call you back. 
Additionally, you will get a free online doctor consultation after making a booking. 
Note that the prices mentioned below may vary. Call us to know the updated prices.
| | |
| --- | --- |
| HSG Test Price in Delhi | Offer Price |
| Hysterosalpingography (HSG) Test Cost in Delhi | ₹2000 |
| HSG With Anesthesia Test Cost in Delhi | ₹3700 |
Call us on 08061970525 to know the lab options near your place in Delhi and make a booking at your convenient time.
Why should I book my test through MFine?
India's leading health tech company specializing in doctor consultations

3 lakh+ patients served so far

400+ labs and hospitals in our panel

1100+ radiology modalities offered

Money-back guarantee if anything goes wrong

100+ corporates trust us for the health checks of their employees
About Hysterosalpingography (HSG) Test
Hysterosalpingography, also commonly known as HSG is a type of x-ray exam prescribed mainly for women to examine the uterus and fallopian tubes. If you are trying to get pregnant but have been unsuccessful or have had multiple miscarriages, then an HSG test is done to check the shape and health of the uterus and to evaluate if the fallopian tubes are blocked or malformed in any way.
Generally, an HSG is taken under the following conditions –
Tumors

Uterine fibroids

Endometrial (uterine) polyps

Adhesions

Blockage of the fallopian tubes due to infection or scarring

Tubal ligation

Congenital problems (uterine anomalies)
An HSG exam usually takes about 30 minutes.
Are There Any Preparations Required Before The Test?
If you have any prior medical reports or scans, it is advised to take them along with you.

The doctors will recommend a good time – seven to 10 days after the first day of your menstrual period, but before ovulation. This is the best time for the exam.

You will be given medications to take before the X-ray in case you feel any discomfort in the test.

Inform beforehand if you have an intrauterine device (IUD) inserted to avoid pregnancy.
Other than this there are no special requirements for the HSG test. Make sure to wear comfortable clothing and avoid wearing any metallic items like jewels, mobiles, chains, pocket knives, etc. If you are expected to get pregnant or are currently pregnant, inform your doctor or lab technician before the test.