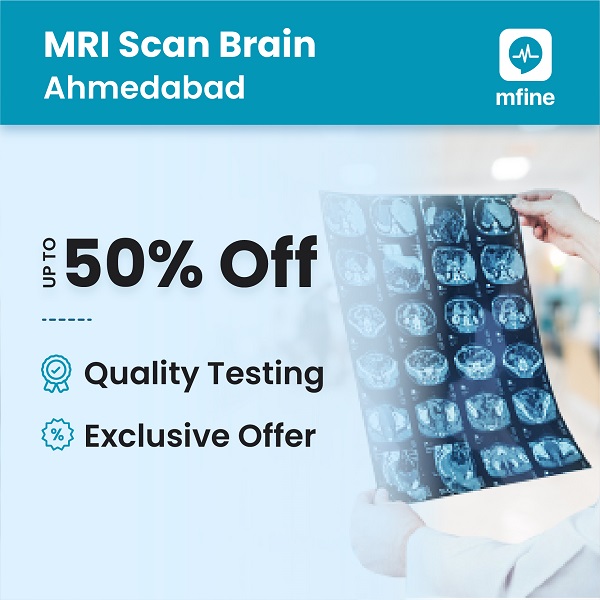 Magnetic Resonance Imaging is the full form of an MRI scan. It is a high-tech mechanism of imaging that uses magnetic rays to create a detailed image of a body part. 
MFine offers you high-quality lab options, and an excellent discount of up to 50%, for your MRI Scan Brain / Head cost in Ahmedabad.  
MRI Brain Scan in Ahmedabad by MFine
Trust of booking through one of India's largest e-health players 

10,000+ MRI scans completed 

₹2850 – Lowest price in the market

Multiple Lab options including House of Imaging, Surryam Imaging Center, and many more 

₹25 lakhs saved in last 3 months
Generally, the market price of an MRI Brain Scan is above ₹6000 but with us, you can get it for ₹2850 only.
Avail of this exclusive offer by calling us on
Or you can click on the button below for us to call you back. 
Additionally, you will get a free online doctor consultation after making a booking. 
The following is the list of the most common MRI scans done in Ahmedabad and their offer price. Note that the prices mentioned below may vary. Call us to know the updated prices.
| | |
| --- | --- |
| MRI Scan Cost in Ahmedabad | Offer Price |
| MRI Brain Price in Ahmedabad | ₹2850  |
| MRI Brain with Contrast Price in Ahmedabad | ₹4500 |
Call us on 08061970525 to know the lab options near your place in Ahmedabad and make a booking at your convenient time. 
Why should I book MRI Brain through MFine?
I

ndia's leading health tech company specializing in doctor consultations

3 lakh+ patients served so far

400+ labs and hospitals in our panel

1100+ radiology modalities offered

Money-back guarantee if anything goes wrong

120+ corporates trust us for the health checks of their employees
High Quality and Certified Labs in Ahmedabad
Surryam Imaging
Surryam Imaging was established in the year 2016, it is a one-stop destination for all the healthcare services. They believe that customer satisfaction is as important as their products and services, which helped them to garner a vast base of customers. The staff at this establishment are courteous and prompt at providing any assistance.
Branches of Surryaam Imaging.
Surryaam Imaging, Asarwa – 1st & 2nd Floor, Sparsh Complex, Opposite Civil Hospital Gate No 4, Near Indian Oil Petrol Pump Asarwa, Ahmedabad – 380018.
Surryaam Imaging, Narol – Ground Floor, Avtaar Hotel, 1, Suflam Estate, Isanpur Narol Highway Narol, Ahmedabad – 382405.
Gujarat Imaging Center
Gujarat Imaging Center was established in the year 2000 and it is well known for providing high-quality medical imaging services to its customers. GIC's aim is to help doctors to diagnose accurately and with more confidence so that they can apply the best treatment for a patient's condition.
Location – First Floor, Samved Hospital, Stadium, Commerce College Rd, Navrangpura, Ahmedabad – 380007.
Sadbhav Imaging Center
Sadbhav Imaging Center is a flagship of Gujarat Imaging Center and it offers professional medical imaging services. This institution serves as a one-stop destination for all kinds of medical diagnostic services. The atmosphere is comfortable and warm thus helping the patients to relax and feel easy while doctors carry out various diagnostic tests and procedures.
Location – Government Ladies Hostel, Ground Shaival Plaza, Sheth Mangaldas Rd, behind Gujarat College, Ellisbridge, Ahmedabad – 380007.
Maninagar Imaging Center
Maninagar Imaging Center was established in the year 2013 and it is a top player in CT and MRI scan services. They believe that customer satisfaction is important which helps to build trust in their patients. The staffs in the institution are well trained and professional at providing any assistance.
Location – Ground floor, Sukhan enclave, Bhairavnath Rd, Kankaria, Maninagar, Ahmedabad – 380007.
House of Imaging
House of Imaging was established in 2016 in the heart of the city of Ahmedabad and is a leading player in radiology services like MRI, CT, Sonography, and X-Ray. Their goal is to provide high-quality integrated healthcare and medical services to the public. The doctors and staffs in the center are well qualified and highly experienced, providing premium service with the best advice and clear understanding. 
Location – Ground floor, Digvijay Lions Foundation, Opp. Civil Hospital Gate No.3,  Asarwa Chakla, Ahmedabad – 380016.
Frequently Asked Questions about MRI Scan
About MRI Scan Brain
Magnetic Resonance Imaging is the full form of an MRI scan. It is an advanced non-invasive imaging technique done to detect and diagnose various abnormalities in your body.
An MRI scan process is performed using strong electromagnetic pulses to check the images of the internal organs of your body. It is efficient enough to detect abnormalities in the internal organs such as the kidney, liver, brain, spinal cord, joints, chest, lungs, etc.
No preparation is required before the procedure. But, occasionally a contrast material will be used to get a detailed picture of the abnormality. In such a case, you should fast for at least 12 hours before the procedure. The contrast dye will be provided either orally or will be injected into the vein.
All the metallic contents should be removed before entering the MRI scan room. You may also be asked to change into a gown provided by the lab.
The MRI machine has a sliding table on which you need to lie down to send in for the imaging process. Once you are inside the magnets in the machine will start rotating around the body part that is being diagnosed. This will create a strong electromagnetic field and these signals will be picked up and sent to a special computer to process into an image.
A radiologist will be observing the whole test procedure from the nearby chamber with the help of a mic and speakers.  Usually, it will take up to 90 minutes to complete the entire procedure depending on your study.
An MRI scan is generally safe compared to other imaging techniques that use radiation. But, the MRI scan has its own limitations. The people who had undergone any heart surgery for a heart valve implant or implanted any kind of metallic clips or plates etc. are not allowed from taking an MRI scan.
Prerequisites For MRI Scan
The following are the prerequisites for an MRI scan if the contrast dye is used in the procedure.
Minimum 4 hrs fasting required before the scan.

Your Creatinine and Blood Urea reports need to be brought to the scan center.

In the case of any former consulting, take your previous medical reports to the lab.