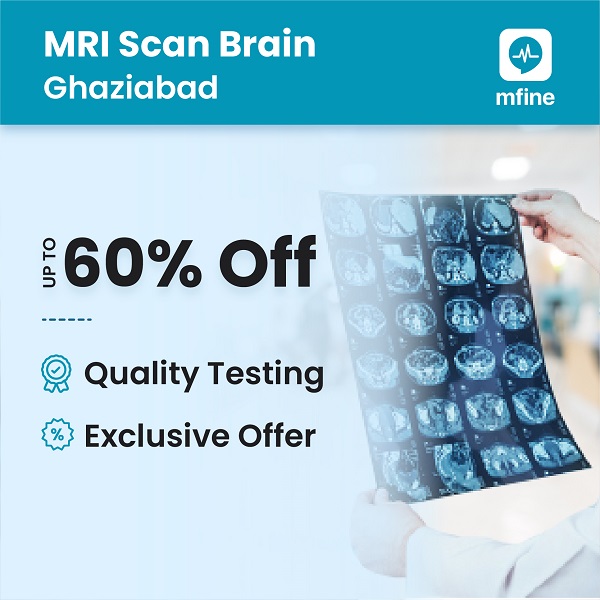 MRI Brain Scan or Magnetic Resonance Imaging Brain is a special type of scan that uses magnetic rays to create a detailed image of a brain. 
MFine offers you high-quality lab options, and an excellent discount of 60%, for your MRI Brain in Ghaziabad.  
MRI Scan Brain in Ghaziabad by MFine
Trust of booking through one of India's largest e-health players 

5000+ MRI brain scans completed 

₹2700 – Lowest price in the market

Multiple lab options including Molecular Imaging, Vrinda Diagnostics, and many more

₹10 lakhs saved in last 3 months
MRI Brain Scan Cost In Ghaziabad Through MFine
Generally, the market price of an MRI brain scan is above ₹6750 but with us, you can get it for ₹2700 only. 
Avail of this exclusive offer by calling us on
Or you can click on the button below for us to call you back.
Additionally, you will get a free online doctor consultation after making a booking. 
The following is the list of the most common MRI brain scans done in Ghaziabad and their offer price. Note that the prices mentioned below may vary. Call us to know the updated prices.
| | |
| --- | --- |
| MRI Brain Scan in Ghaziabad | Starting Price |
| MRI Brain Scan Price in Ghaziabad | ₹2700 |
| MRI Brain Contrast Price in Ghaziabad | ₹5506 |
There are many other MRI Brain Scan protocols available. You can call us on 08061970525 to discuss more and make a booking for your convenient lab and time.
Why should I book MRI through MFine?
India's leading health tech company specializing in doctor consultations

3 lakh+ patients served so far

400+ labs and hospitals in our panel

1100+ radiology modalities offered

Money-back guarantee if anything goes wrong

120+ corporates trust us for the health checks of their employees
About MRI Brain Scan
MRI Brain is prescribed to get accurate and detailed images of the brain so that the reasons for the patient's current brain medical condition can be diagnosed rightly. Magnetic Resonance Imaging, also called MRI, produces a magnetic field and uses radio waves to obtain the required organ's image.

Why MRI Brain Scan Is Prescribed?
Since the magnetic waves penetrate through the bones of the head, MRI scans can create images of the internal parts of the brain. Given below are the symptoms leading a doctor to prescribe an MRI of the brain.
Stroke

Infections

Tumors

Cysts

Swelling

Aneurysms (bulged up blood vessels in the brain)

Spinal cord injuries

Hydrocephalus (built-up spinal fluid in brain cavities)

Inflammation

Problems with development
Prerequisites For MRI Brain Scan
Follow these simple steps before going for the MRI scan:
Objects made of metal like pens, jewelry, watches, piercings, ATM cards, & pocket knives must be removed.

Take off the hearing aids, if any.

Don't go inside the chambers with spectacles on.

Take off the braces from your teeth.

No hairpins, safety pins, metal zippers are to be taken inside.