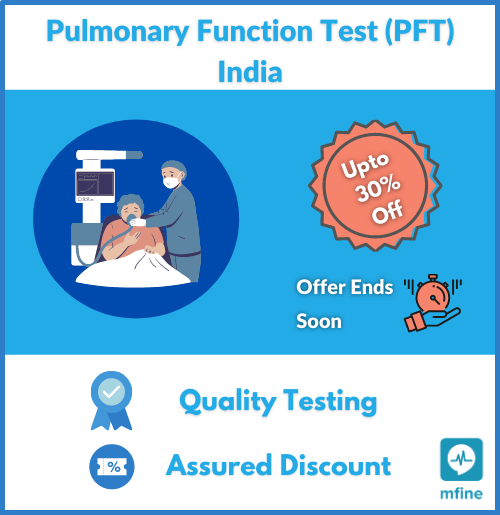 Pulmonary Function Test (PFT) helps to evaluate the respiratory system of the body. It is a non-invasive lung test and helps to monitor how well the lungs are working.
MFine offers you multiple high-rated lab options, and an excellent discount of up to 30%, for your Pulmonary Function Test (PFT) cost in India.
Pulmonary Function Test (PFT) In India By MFine
Trust of booking through one of India's largest e-health players

10,000+ PFTs completed

₹255 – Lowest price in the market

Multiple lab options across India

₹5 lakhs saved in last 3 months
Pulmonary Function Test (PFT) In India Through MFine
Generally, the market price of a Pulmonary Function Test is above ₹1500 but with us, you can get it for ₹255 only.
Avail of this exclusive offer by calling us on
Or you can click on the button below for us to call you back.
Additionally, you will get a free online doctor consultation after making a booking.
The following is the list of the Pulmonary Function Test offer price in different cities. Note that the prices mentioned below may vary. Call us to know the updated prices.
| | |
| --- | --- |
| Pulmonary Function Test (PFT) Cost In India | Offer Price |
| PFT in Gurgaon | ₹600 |
| PFT in Mumbai | ₹680 |
| PFT in Thane | ₹595 |
| PFT in Hyderabad | ₹440 |
| PFT in Chennai | ₹400 |
| PFT in Bangalore | ₹450 |
| PFT in Kolkata | ₹720 |
| PFT in Jaipur | ₹255 |
If you are not able to find your city in the above list, feel free to call us on 08061970525 to know the lab options near your place and make a booking at your convenient time.
Why Should I Book Pulmonary Function Test (PFT) Through MFine?
India's leading health tech company specializing in doctor consultations

3 lakh+ patients served so far

400+ labs and hospitals in our panel

2100+ radiology and pathology modalities offered

Money-back guarantee if anything goes wrong

120+ corporates trust us for the health checks of their employees
What Is A Pulmonary Function Test (PFT)?
PFT stands for Pulmonary Function Test. A PFT helps to evaluate the respiratory system of the body. It is a non-invasive test that measures the lung volume, capacity, and airflow to see how well the lungs of the body are working.
Why Is A PFT Done?
A PFT is done to help detect lung diseases that make it difficult to breathe, including :
Asthma

Respiratory infections

Allergies

Bronchitis

Lung cancer

Thickened, swollen airways
How Is The Test Performed?
During a PFT, a sterile mouthpiece that is attached to a spirometer is given to the patient. The patient's nose will be clipped so all the breathing takes place through the mouth. The patient has to sit and breathe in and out (inhale and exhale), in different ways while the doctor will monitor the procedure.
What Are The Precautions To Be Taken Before A PFT?
There are no special preparations required for a Pulmonary Function Test. However, a few things to be kept in mind before the test takes place :
Wear loose, comfortable clothing on the day of the test.

Avoid a large/heavy meal before the test.

Any ongoing medication should be stopped, as advised by the doctor.

Caffeine and smoking should be avoided.

Any form of strenuous exercise should be avoided before the test.