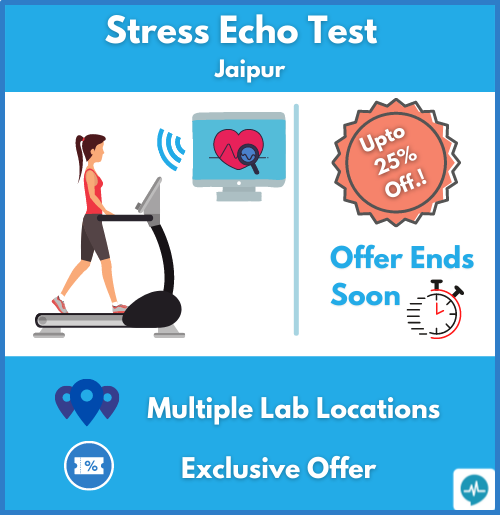 Stress Echo Test in Jaipur
A Stress Echocardiogram test assesses the functioning of the heart, when under stress. The stress is virtually triggered by exercising on a treadmill or by injecting Dobutamine. Dobutamine is a drug that is injected into the vein of the patient that causes the heart to beat faster. This test is basically done to evaluate how well your heart works or tolerates activities.
We offer you high-quality lab options, and an excellent discount of up to 25%, for your Stress Echo test in Jaipur.
Stress Echo Test in Jaipur by MFine
Trust of booking through one of India's largest e-health players

5,500+ Stress Echo Tests completed

₹3,000 – Lowest price in the market

Multiple labs options including Metro MAS Hospital and Heart Institute, and many more

₹6 lakh saved in last 3 months
Generally, the market price of a Stress Echo Test Cost in Jaipur is ₹6000 but with us, you can get it for ₹3,000 only.
Avail of this exclusive offer by calling us on
Or you can click on the button below for us to call you back.
Additionally, you will get a free online doctor consultation after making a booking.
The following is the price of the Stress Echo Test in Jaipur. Note that the prices mentioned below may vary. Call us to know the updated prices.
| | |
| --- | --- |
| Stress Echo Test in Jaipur | Cost through Us |
| Stress Echo Test | ₹3000 |
Why should I book Stress Echo Test through MFine?
India's leading health tech company specializing in doctor consultations

3 lakh+ patients served so far

400+ labs and hospitals in our panel

1100+ radiology modalities offered

Money-back guarantee if anything goes wrong

120+ corporates trust us for the health checks of their employees
Frequently Asked Questions
What is Stress Echo Test?
Stress echocardiography also called an echocardiography stress test or stress echo is a procedure that determines how well your heart and blood vessels are working.
If the test is done without the use of any drug and the heart is made to beat faster by exercise, then the test is called a normal stress echo. If a dobutamine drug is used to make the heart run faster, then the test is known as a dobutamine stress echo.
The dobutamine stress echo test is useful to determine:
If there is a decreased supply of blood and oxygen to the heart at rest as well as with exercise

If there is reduced movement of the heart muscle

The overall level of cardiovascular conditioning

How quickly the heart recovers after exercise

How hard the heart can work before symptoms develop

Estimate the risk of surgery that can cause cardiac complications
What is the procedure of the Dobutamine Stress Echo Test?
Dobutamine Stress Echo is generally recommended if the patient is unable to exercise. Dobutamine drug impacts the functioning of the heart and simulates the effect of exercise on the heart. During the test, you will be given a dosage of dobutamine slowly and the impact on the heart measured for different doses. The measurement is done by a normal ultrasound machine.
Please note that the procedure of the stress echo test and dobutamine stress echo test may vary slightly with each lab.
Prerequisites for Echo Test
Make sure you do not eat or drink anything for three to four hours prior to the test. Avoid consumption of nicotine or caffeine before your test. Inform your doctor if you are taking any pattern of medications regularly. If you are diabetic and take insulin, then consult with your doctor before the test.
Wear a two-piece of loose and comfortable cloth preferably a lower and a kurta or shirt separately as your doctor may ask you to expose your chest area. Do not carry any valuable or ornament during the test. Do not apply any cosmetics or ointments on your chest prior to your test.
For a dobutamine stress echo test, it is best to speak with the lab before you go there. The preparation required and fasting needed will be mentioned in the lab.
Other topics you may be interested in:-