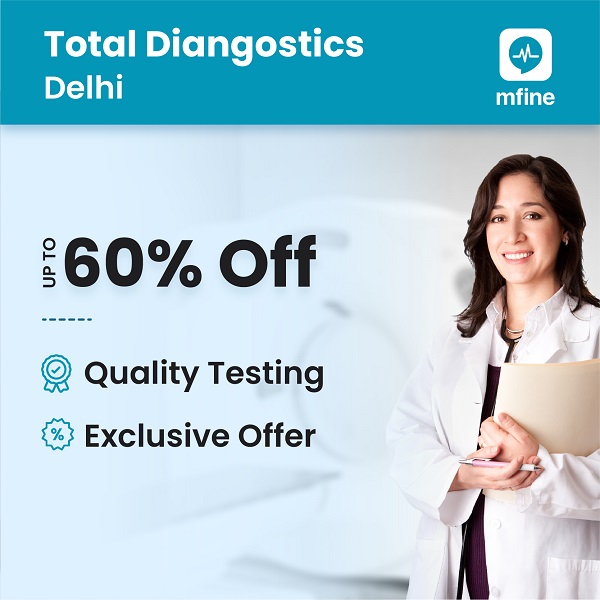 Total Diagnostics Care is well-known in the category of radiology and pathology testing for over 4 years in Delhi. We have tied up with them to bring to you exclusive discounts on their medical tests including MRI, CT, Ultrasound, X Rays, ECHO, and more.
Get up to 60% Off and save up to ₹5,000 on various tests. We will not only get you the discount, but we will also get the preferred time slot for your tests. 
The discount and the test booking services are available at the following labs: 
Total Diagnostics Care, Kirti Nagar, Delhi

Total Diagnostics Care, Tilak Nagar, Delhi
Avail of this exclusive offer by calling us on
Or you can click on the button below for us to call you back.
Additionally, you will get a free online doctor consultation after making a booking. 
Why should I book my test through MFine?
Up to 60% discount and huge savings at Total Diagnostics Care

Assistance in getting an appointment and booking the tests

Service available at 2 Total Diagnostics Care labs

Highly trained customer care team
About Total Diagnostics Care
Total Diagnostics Care was established in the year 2016. The first center was set up in Kirti Nagar. The center aimed to bring the best of radiology and pathology tests to the public of Delhi. The center has succeeded in this aim right from its inception.
Total Diagnostics care provides a one-stop destination for customers both locally and all over Delhi. The conviction that consumer loyalty is as significant as their product and services have helped this foundation gather an immense base of clients, which keeps on developing constantly. Sooner rather than later, Total Diagnostics Care plans to grow its line of products and services and take into account a bigger customer base.
Location Of Total Diagnostics Care
In Delhi, this foundation is located in two prominent locations.
Kirti Nagar –

Opposite Metro Pillar Number 330, Kailash Park,

Tilak Nagar

–

Near

 Mukharjee Park
Key Radiology Tests At Total Diagnostic Care
Each center conducts many radiology modalities machines including
MRI Scans – 1.5 Tesla

CT Scans 

Various kinds of X Rays

Ultrasound and Dopplers

ECG

EEG

PFT

Mammography
Scans At Total Diagnostics Care
The following is the list of the most frequently booked tests/scans at Total Diagnostics, Delhi. Note that the prices mentioned below may vary. Call us to know the updated prices.
| | |
| --- | --- |
| Key Medical Tests At Total Diagnostics Care | Cost Through MFine |
| MRCP Scan | ₹8800 |
| MRI Scan Brain | ₹8000 |
| MRI Scan Pelvis | ₹8000 |
| MRI Scan Knee Joint | ₹8000 |
| MRI Scan Shoulder Joint | ₹8000 |
| MRI Scan Face | ₹8000 |
| MRI Scan Spine (Cervical/Dorsal) | ₹8000 |
| MRI Scan Whole Spine | ₹16000 |
| MRI Scan Any Body Part | ₹8000 |
| CT Coronary Angiography | ₹15000 |
| CT Scan Chest | ₹4500 |
| CT Scan Brain Contrast | ₹3500 |
| CT Scan Abdomen Triple Phase | ₹12800 |
| HRCT Chest | ₹6000 |
| Ultrasound Whole Abdomen | ₹1500 |
| Ultrasound Lower Abdomen | ₹1200 |
| Ultrasound Pelvis | ₹1200 |
| Doppler Both Limbs Arterial And Venous | ₹5000 |
| X-Ray Chest | ₹400 |
| X-Ray Knee | ₹350 |
| X-Ray Lumbar Spine | ₹700 |
| ECG | ₹200 |
| ECHO | ₹3000 |
| Stress Echo | ₹5500 |
Call us on 08061970525 to avail of the exclusive offer and to make a booking at your convenient time.
Other Topics You May Be Interested In:-