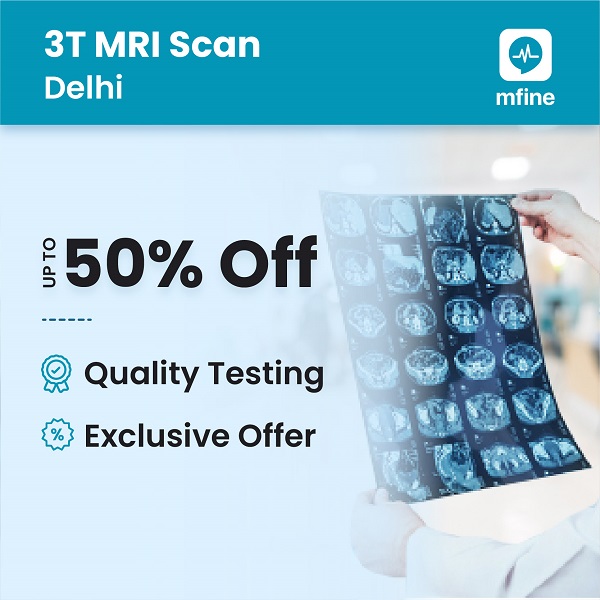 Magnetic Resonance Imaging, also generally known as MRI Scan is an advanced type of scan that uses magnetic rays to penetrate the tissues and create a detailed image of a body part.
We offer you high-quality lab options, and an excellent discount of 50%, for your 3T MRI Scan in Delhi.
3T MRI Scan in Delhi by MFine
Trust of booking through one of India's largest e-health players 

15,000+ 3T MRI scans completed 

₹3700 – Lowest price in the market

Multiple labs options including Mahajan Imaging, City X-Ray, Total Diagnostics, and many more

₹20 lakhs saved in last 3 months
Generally, the market price of a 3T MRI Scan is above ₹7000 but with us, you can get it for ₹3700 only.
Avail of this exclusive offer by calling us on
Or you can click on the button below for us to call you back. 
Additionally, you will get a free online doctor consultation after making a booking. 
The following is the list of the most common 3 Tesla MRI scans done in Delhi and their offer price. Note that the prices mentioned below may vary. Call us to know the updated prices.
| | |
| --- | --- |
| 3 Tesla MRI Cost in Delhi | Offer Price |
| 3T MRI Brain Price in Delhi | ₹4225 |
| 3T MRI Spine Price in Delhi | ₹3700 |
| 3T MRI Knee Price in Delhi | ₹4550 |
| 3T MRI Chest Price in Delhi | ₹3700 |
| 3T MRI Ankle Price in Delhi | ₹3700 |
| 3T MRI Elbow Price in Delhi | ₹3700 |
| 3T MRI Shoulder Price in Delhi | ₹3700 |
| 3T MRI Whole Abdomen Price in Delhi | ₹7400 |
| 3T MRI Neck Price in Delhi | ₹3700 |
| 3T MRI Hand Price in Delhi | ₹3700 |
About 3 Tesla MRI Scan
MRI or magnetic resonance imaging is a form of radiology test in which magnetic rays interact with body parts to produce detailed images of the body. MRI can be done for any body part.
MRI Scanning machines are generally classified into two types, according to the magnetic strengths they are –
As the name suggests, 3 Tesla or 3T machine has a stronger magnetic field that is twice the strength of a 1.5 Tesla machine.
3 Tesla MRI scan is done to detect and diagnose various abnormalities in the different parts of your body.
3T MRI scan uses strong magnetic fields and radio waves to visualize the inner organs of the body. 3T MRI machine looks like a long tube that has both ends open. The lab operator/technician will ask you to lay flat on the sliding table that slides into the MRI machine. Then, 3 Tesla MRI machine starts to generate magnetic fields and radio waves at your focused body part.
The computer located in a different room picks these signals and produces a detailed image of the inner organs.
In some cases, a contrast dye will be injected into your vein through IV to enhance the quality of the image. You will be asked to stay still during the process so that the image produced comes out well accurate.
It usually takes about 1 hour depending on the part of the body to be examined.
A 3T MRI scan is generally safe compared to other imaging techniques that use radiation. But, the 3T MRI scan has its own limitations. People with any kind of metallic implants such as pacemakers, artificial heart valves, clips, plates, etc are restricted from taking a 3 Tesla MRI scan.
Prerequisites For 3T MRI Scan
The following are the prerequisites for a 3T MRI scan if the contrast dye is used in the procedure.
Minimum 4 hrs fasting required before the scan.

Take the latest Blood Urea and Creatinine report with you.

In case, if you have any previous medical reports, it is advisable to take those reports to the lab.
Other Topics You May Be Interested In:-