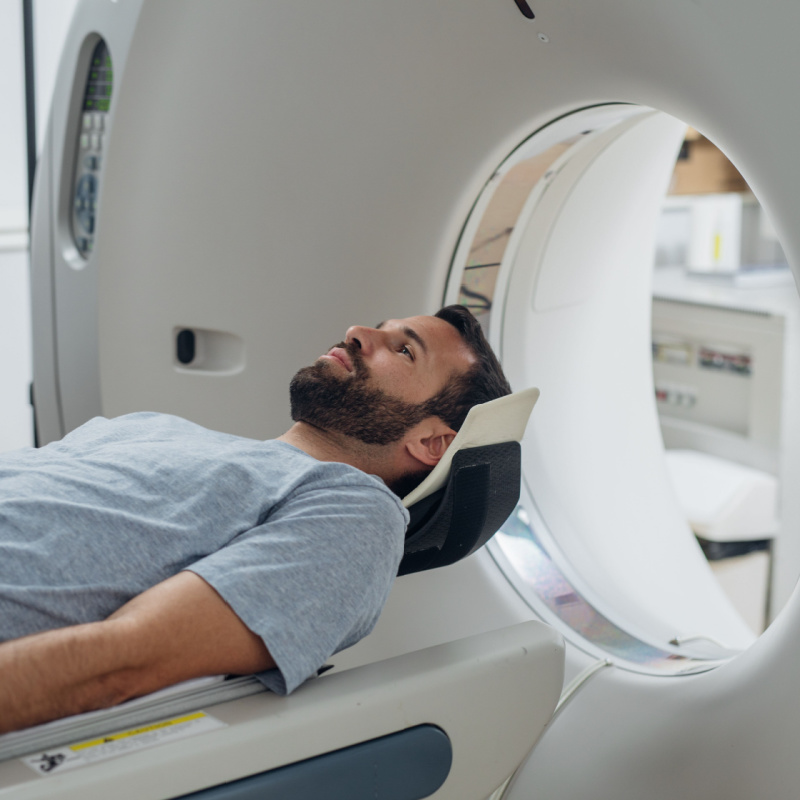 CT-guided Pigtail Scan is used in assisting the removal the unnecessary fluids (pus, bile, urine, or pancreatic fluids) that have deposited inside the body or cannot excrete naturally.
CT Angiography Scan is done to detect any abnormalities in the heart vales and to check whether the blood vessels that connect with the heart, lungs, kidney are functioning well without any blockage.
We offer you high-quality lab options, and an excellent discount of 40%, for your CT-guided Biopsy, CT-guided Pigtail, and CT Angiography Scans in Mumbai.
CT-guided Scans and CT Angiography Scans in Mumbai by MFine
Trust of booking through one of India's largest e-health players 

5000+ CT-guided Biopsy, CT-guided Pigtail, and CT Angiography Scans completed 

₹7620 – Lowest price in the market

Multiple labs options including Medcare, Jeeyo PET CT Imaging, and many more

₹10 lakhs saved in last 3 months
Generally, the market price for CT-guided Biopsy, CT-guided Pigtail, and CT Angiography Scans is above ₹12,000 but with us, you can get it for ₹7620 only.
Avail of this exclusive offer by calling us on
Or you can click on the button below for us to call you back.
Additionally, you will get a free online doctor consultation after making a booking. 
Note that the prices mentioned below may vary. Call us to know the updated prices.
| | |
| --- | --- |
| CT-guided Scans, and CT Angiography Scan in Mumbai | Offer Price |
| CT-guided Biopsy Cost in Mumbai | ₹12,400 |
| CT-guided Pigtail Cost in Mumbai | ₹13,590 |
| CT Angiography Scan Cost in Mumbai | ₹7,620 |
Call us on 08061970525 to know the lab options near your place in Mumbai and make a booking at your convenient time.
Why should I book my test through MFine?
India's leading health tech company specializing in doctor consultations

3 lakh+ patients served so far

400+ labs and hospitals in our panel

1100+ radiology modalities offered

Money-back guarantee if anything goes wrong

100+ corporates trust us for the health checks of their employees
About CT-guided Biopsy, CT-guided Pigtail, and CT Angiography Scans
CT-guided Biopsy
CT-guided biopsy scans are less commonly used compared to ultrasound-guided biopsy. But a CT-guided biopsy has many advantages in certain anatomical detailing such as lung and bone biopsies.
The CT-guided biopsy is prescribed to get a detailed picture of your body tissue and organs which helps take a small tissue through a needle as a sample for testing. This helps to choose a proper treatment for your medical condition. A CT scan is the safest and fastest way to let guide the needle inside without doing open surgery.
A biopsy is done when an imaging test cannot confirm that a nodule is benign/tumor, or a nodule cannot be reached by bronchoscopy or other methods. Needle biopsy is less invasive than surgical biopsy and sometimes may not require general anesthesia.
A CT-guided biopsy is prescribed if you have any of the following medical conditions –
To determine if you have any cancer cells

To check for tuberculosis (TB) 

To check the presence of viral, fungal, or a parasitic disease
CT-guided Pigtail
A CT-guided Pigtail is a technique used to drain unwanted fluids from the body (from an abscess, duct, or organ). Such as Empyema – which is a medical condition where the collection of pus in the pleural cavity can occur due to lung infection, trauma, or surgery.
Pigtail Catheter is used for draining excess collection of fluidlike pus, bile, urine or pancreatic fluids, and even air from pleural spaces. The CT scan helps to position the pigtail catheter at the prompt place. The catheter contains a bag attached to the other end of the tube which is helpful to collect all the substances that are taken out.
Thus a CT-guided Pigtail technique is done to remove the unnecessary fluids and that varies according to the viscosity of the fluid.
CT Angiography Scans
A CT Angiogram is an advanced type of imaging that provides detailed imaging of blood vessels that connects with the heart, lungs, kidney, etc. helps in detecting blockage, aneurysms (bulge), or plaques (fatty deposits) in these blood vessels which may lead to heart problems.
A CT Angiography is performed to:
To detect any blockage or blood clot in the heart arteries or vessels

To check any narrow arteries in the heart

To check for the signs of tumor

To detecting any scarring/tear in the aorta

To detect the fat buildup (plaque) blocking any arteries and obstructing blood flow to the heart.

To determine any heart injury or problem such as pericarditis (a buildup of fluid around the heart)
How are these CT-guided scans and CT angiography scans performed?
CT-guided biopsy process
A local anesthetic will be injected to numb the path of the needle – a biopsy needle is generally several inches long to obtain the sample tissue deep inside the body.

After the anesthesia, you will be asked to lie down on the CT scanning machine's imaging bed. After you have been positioned properly, the lab technician starts the scanning process and monitors through a computer screen.

This CT scan is performed to detect the location of the nodule and the safest approach for the targeted area. Once the location of the nodule is confirmed, the entry site is marked on the skin. The skin around the insertion site will be scrubbed and disinfected.

A very small nick is made in the skin on the site of biopsy needle insertion.

Using the CT scan's imaging guidance, the lab technician will insert the needle through the skin, advance it to the site of the nodule, and obtains the sample tissue. Multiple specimens may be needed for complete analysis.

After collecting the required amount of specimen, the needle will be removed and the biopsy is now complete.
A CT-guided biopsy takes around 60 minutes in total to complete.
CT Angiography process
If a contrast dye is used, it will be given to you by mouth (oral contrast) or injected into a vein in your arm (intravenous or IV).

If you have been given oral contrast, you will need to wait for about 45 to 60 minutes. This waiting time is needed for the contrast to move through your digestive tract, then you will be taken into the scanning room.

Your doctor might give you a medication called a 'beta blocker' to slow your heart rate this enables the scan to produce a clearer image.

In some cases, you might also be given nitroglycerin to widen (dilate) your coronary arteries. However, this is given only when necessary.

You will be asked to lie down flat on the CT Scan's imaging bed. The helper will place electrodes on your chest to record your heart rate. After you have been positioned properly, the helper leaves the scanning room. The technician will monitor the whole procedure with the help of a computer.

The bed is moved slowly through the scanner. The scanning machine will rotate around you and produce several images of thin slices of your body. You will need to lie very still while the images are being captured.

If needed, the technician will instruct you to hold your breath for several seconds so that you remain still.

The scanning takes about 15-20 minutes to complete.
Are there any preparations required before the tests?
CT-guided Pigtail –
There is not much of a prerequisite before the CT-guided pigtail. However, consult with your doctor before the scan if any special preparation is required.
CT-guided Biopsy –
You will be asked not to drink anything other than water beginning at midnight the night before your appointment and not to eat or drink anything for at least six hours before your biopsy begins.

Do not take the following medications – aspirin, ibuprofen (Advil, Genpril, Haltran, IBU, Menadol, Midol, Motrin), or vitamin E for 3-7 days prior to the biopsy.
CT Angiography –
If the angiography is ordered with contrast, you may need to fast (do not eat or drink) for at least 3 hours before the scan.

If you are diabetic, then the medications are not to be taken for the next 48 hours after the completion of CT Angiography.

Other medications can be continued as usual.

Latest Serum Creatinine reports are required to check for the health of your kidneys in case the contrast dye is used – this is needed to determine the volume of the contrast to be given.
Previous reports like CT/USG scans can also be brought in. You need to share details of any prior surgery or a medical condition such as diabetes before the scan. Make sure to wear comfortable clothing and avoid jewelry or any other metal on the body. Women who are expected to get pregnant or currently pregnant are not advised to take the scan, as it may affect the growth of the fetus.