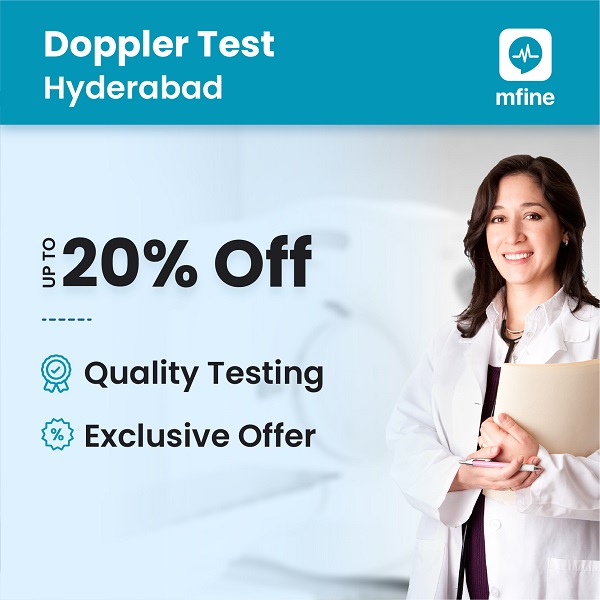 A Doppler test uses high-frequency sound waves that help to evaluate the blood flow in the veins and arteries and to assess any blood clots in your bloodstream.
We offer you multiple lab options, an excellent discount of 20%, and assured quality for your Doppler Test in Hyderabad.
Doppler Test in Hyderabad by MFine
Trust of booking through one of India's largest e-health players 

7,500+ Doppler Tests completed 

Doppler Test Cost Hyderabad – Starting from ₹788

15+ lab options including Vijaya Diagnostic Centre, Lucid Medical Diagnostics, and many more

₹10 lakhs saved in last 3 months
Generally, the market price of the Doppler Test is above ₹3,000 but with us, You can get it for ₹788 only. 
Avail of this exclusive offer by calling us on
Or you can click on the button below for us to call you back. 
Additionally, you will get a free online doctor consultation after making a booking. 
The following is the list of the most common Doppler Tests done in Hyderabad and their offer price. Note that the prices mentioned below may vary. Call us to know the updated prices.
| | |
| --- | --- |
| Doppler Test Cost in Hyderabad | Cost through Us |
| Abdomen Doppler  | ₹1440 |
| Pelvis Doppler  | ₹1350 |
| Penile Doppler  | ₹2046 |
| Scrotal Doppler  | ₹1275 |
| Renal Doppler | ₹1275 |
| Single Limb Arterial Doppler  | ₹788 |
| Single Limb Arterial And Venous Doppler  | ₹1475 |
| Single Limb Venous Doppler  | ₹788 |
| Carotid Doppler  | ₹1200 |
| Obstetric Doppler  | ₹1530 |
Your doctor may recommend a Doppler Test if they suspect any of the following regarding your medical case:
Deep vein thrombosis (DVT): If you are a smoker or obese you are most likely to have DVT. DVT is common in people above the age of 50. Generally, the blood clot formed in the vein due to Deep Vein Thrombosis makes the surgery procedure riskier as it is located deep inside the body.
Superficial thrombophlebitis: It is highly likely that you have superficial thrombophlebitis if the vein bulges along with the skin or if the skin over the vein darkens. However, this can be cured quickly say within a couple of weeks but the stiffness in the vein will be felt over a period of time and takes more time to normal.
Atherosclerosis: While atherosclerosis is mainly caused due to aging it can also occur because of family history, high blood pressure, diabetes, smoking, and lack of exercise.
Thromboagniitis obliterans: Buerger's disease is the other name called for Thromboagniitis obliterans. Thromboagniitis obliterans are commonly seen in men who smoke cigarettes or consume tobacco over the age of 40. While there is no cure for this disease it can be prevented from progression if the consumption of tobacco is stopped.
Prerequisites For Doppler Test
Follow these simple steps before going for the Doppler Test:
Metal objects like jewelry, watches, piercings, credit/debit cards are to be removed from the body/clothes before the test.

Take off the hearing aids, eye lenses if any.

No hairpins, pens, pocket knives, safety pins, metal zippers are to be taken inside.

If you are a smoker it is advised to stop smoking 4-5 hours before the test.

Fasting for 6-12 hours is required and drink less water if the test is to be done on your stomach.
Other Topics You May Be Interested In:-