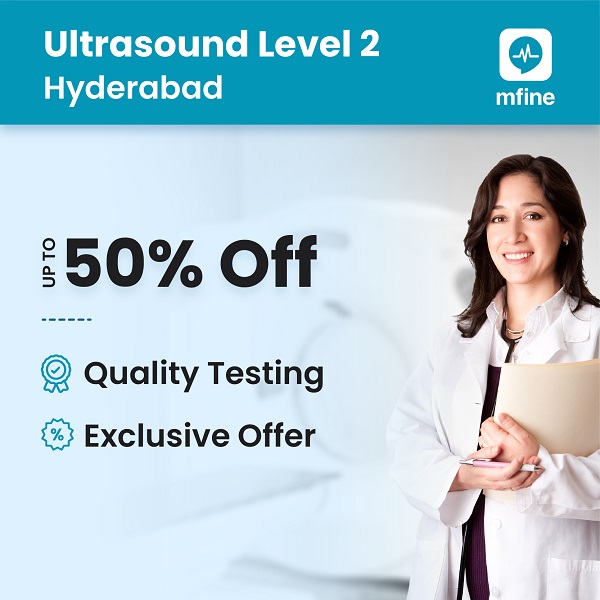 Ultrasound Level 2 Scan is an extensive imaging test that helps to study your baby's overall growth. It is generally done in the second trimester of pregnancy (13th – 27th week).
We offer you high-quality lab options, and an excellent discount of 50%, for your Ultrasound Level 2 Scan in Hyderabad.
Ultrasound Level 2 Scan in Hyderabad by MFine
Trust of booking through one of India's largest e-health players 

6,500+ Ultrasound Level 2 Tests completed 

Starting from ₹935

15+ lab options including Elbit Diagnostics, and many more

₹10 lakhs saved in last 3 months
Generally, the market price of the Ultrasound Test is above ₹3,000 but with us, you can get it for ₹935 only. 
Avail of this exclusive offer by calling us on
Or you can click on the button below for us to call you back. 
Additionally, you will get a free online doctor consultation after making a booking. 
The following is the list of the most common Ultrasound Level 2 Scans done in Hyderabad and their offer price. Note that the prices mentioned below may vary. Call us to know the updated prices.
| | |
| --- | --- |
| Ultrasound Level 2 Scan in Hyderabad | Cost through Us |
| Ultrasound Level 2 | ₹935 |
| Ultrasound Level 2 (Twins) | ₹2565 |
Call us on 08068920280 to know the lab options near your place in Hyderabad and make a booking at your convenient time. 
Why should I book Ultrasound Level 2 through MFine?
India's leading health tech company specializing in doctor consultations

3 lakh+ patients served so far

400+ labs and hospitals in our panel

1100+ radiology modalities offered

Money-back guarantee if anything goes wrong

120+ corporates trust us for the health checks of their employees
About Ultrasound Level 2 Scan
A Level 2 Ultrasound is done to examine your growing baby and to inspect the size of developing organs, the position of the baby, amount of amniotic fluid, any deformity in the baby, or any other condition.
It gives prominent images of your fetal anatomy and development. Generally, it is recommended in the 20th week of the mother's pregnancy. It is performed by professionals who help you to understand the real-time images of your fetus during the process.
Anomaly Scan and USG Level 2 are some of the other names for Ultrasound Level 2 Scan
Why An Ultrasound Level 2 Scan Is Prescribed?
If you have a pregnant woman who is at the second phase of her pregnancy, it is recommended/your doctor will ask to take an Ultrasound level 2 Scan. The reasons why Doctors suggest this scan are as follows:
Assess the overall development of the baby,

Evaluate the amount of amniotic acid in the mother's womb,

To inspect the position of the growing baby,

Assess displayed fetal movements,

Determine birth defects or other chromosomal conditions, such as down syndrome

To examine other internal tissues such as the placenta or umbilical cord,

Assess the mother's cervix and vaginal canal,

Determine the number of babies in the womb.
Prerequisites For Ultrasound Level 2 Scan
Generally, for Ultrasound Level 2 Scan fasting is required for at least 8 hours as the food particles may block the sound waves and do not show a clear picture.
Other Topics You May Be Interested In:-