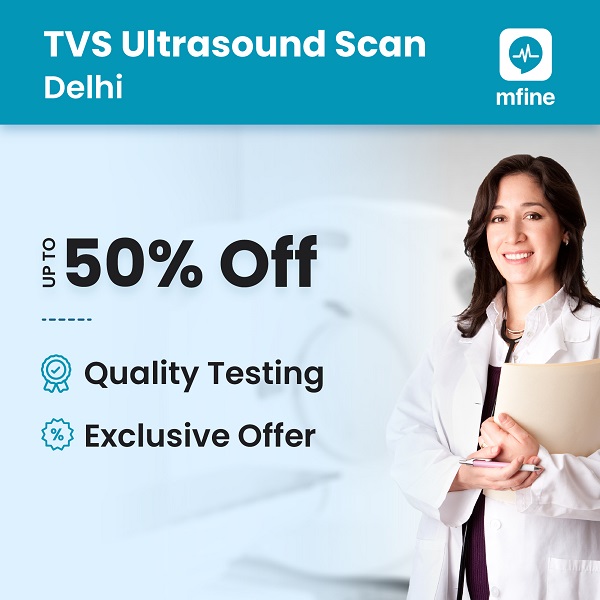 TVS Ultrasound/Trans Vaginal Ultrasound is a non-invasive imaging technique that uses sound waves to capture live images of our internal organs. It is used to detect and diagnose conditions such as pelvic pain, infertility, fibroids, and various other abnormal results from pelvic or abdominal tests.
We offer you high-quality lab options, and an excellent discount of 50%, for your TVS Scan price in Delhi.
TVS Ultrasound Scan in Delhi by MFine
Trust of booking through one of India's largest e-health players 

7,500+ TVS Ultrasound Tests completed 

Starting from ₹850

15+ lab options including Mahajan Imaging, Indogulf, BR Diagnostics, and many more

₹10 lakhs saved in last 3 months
Generally, the TVS Test Price in Delhi is above ₹1600 but with us, You can get it for ₹850 only. 
Avail of this exclusive offer by calling us on
Or you can click on the button below for us to call you back. 
Additionally, you will get a free online doctor consultation after making a booking. 
Why should I book a TVS Ultrasound Scan through MFine?
India's leading health tech company specializing in doctor consultations

3 lakh+ patients served so far

400+ labs and hospitals in our panel

1100+ radiology modalities offered

Money-back guarantee if anything goes wrong

120+ corporates trust us for the health checks of their employees
About Ultrasound Scan
Ultrasound Sonography Scan is a non-invasive imaging technique that uses sound waves to capture live images of our internal organs through an Ultrasound diagnostic device. Ultrasound Test helps to detect and diagnose various abnormalities such as
Cysts 

Gallstones

Digestive problems

Abnormalities in the pregnancy

Cancer

Blockage in blood vessels
As it does not use any kind of radiation, it is most commonly done at different stages of pregnancy to examine the health of the fetus. An ultrasound is done to scan the internal parts of our body using high-frequency radio waves that help to penetrate our body.
Why A TVS Ultrasound Is Prescribed?
Your doctor or physician can prescribe a TVS Ultrasound Scan when an image of higher quality and details are required where a transabdominal ultrasound could not obtain in-depth images of the organs in the pelvic region. It is done to examine 
Uterus

Ovarian tumors

Urinary bladder

Polyps

Unexplained vaginal bleeding

Fibroids
Apart from these medical requirements, a TVS Ultrasound is also commonly done at different phases/weeks of pregnancy to examine the health of the growing fetus.
Checking the heartbeat of the fetus

Confirming the date of pregnancy

Assessing the condition of the placenta

Checking for ectopic pregnancy

Monitoring pregnancies with a higher risk of miscarriage
Prerequisites For TVS Ultrasound Test
Generally, there are not any prerequisites for the TVS Ultrasound test. You need to take 1 – 1.5 liters of water one hour before the test, ensure you have a full bladder but not uncomfortably full. This helps in producing ultrasound images more accurately.
Other Topics You May Be Interested In:-