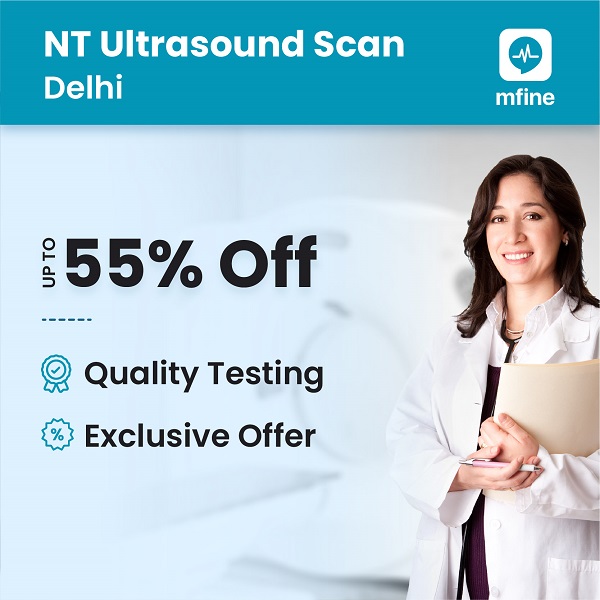 Ultrasound sonography scan is a non-invasive imaging process that uses minute-frequency sound waves to capture live images of our internal organs. NT Ultrasound Scan is used to examine the health condition of the fetus during the 11th – 14th week of pregnancy period.
We offer you high-quality lab options, and an excellent discount of 55%, for your NT Ultrasound Scan in Delhi.
NT Ultrasound Scan in Delhi by MFine
Trust of booking through one of India's largest e-health players

7,500+ NT Ultrasound Tests completed

NT Ultrasound Test Cost Delhi at ₹1275

15+ lab options including Mahajan Imaging, Total Diagnostics, BR Diagnostics, Dr. Kohli Imaging and Diagnostics, and many more

₹10 lakhs saved in last 3 months
Generally, the market price of the NT Ultrasound Test is above ₹2500 but with us, you can get it for ₹1275 only.
Avail of this exclusive offer by calling us on
Or you can click on the button below for us to call you back.
Additionally, you will get a free online doctor consultation after making a booking.
Why should I book an NT Ultrasound Scan through MFine?
India's leading health tech company specializing in doctor consultations

3 lakh+ patients served so far

400+ labs and hospitals in our panel

1100+ radiology modalities offered

Money-back guarantee if anything goes wrong

120+ corporates trust us for the health checks of their employees
High Quality And Certified Labs In Delhi
Mahajan Imaging
Mahajan Imaging, established in the year 1991, aims at providing the best quality highest-end imaging in a patient-friendly environment. The center is a one-stop shop for all imaging and screening needs and provides special high-end preventive health packages to know if all is well. Their goal is to provide high-quality integrated healthcare and medical services to the public. The doctors and staffs in the center are well qualified and highly experienced, providing premium service with the best advice and clear understanding.
Branches of Mahajan Imaging
Mahajan Imaging, Pusa Road – 7B, Upper Ground Floor, Main, Pusa Rd, Rajinder Nagar, New Delhi- 110005.
Mahajan Imaging, Defence Colony – E 19, Main, Ring Rd, Block E, Defence Colony, New Delhi – 110024.
BR Diagnostics
BR Diagnostics is well known for providing exemplary physical and emotional care for each of its patients and their families. They are known to treat their patients with utmost care with an experienced staff and doctors with hygiene and comfort of their patients as their utmost priority.
Location – E- 510, Greater Kailash 2, Opp JMD Kohinoor Mall, Delhi – 110048.
Total Diagnostics Care
Total Diagnostics Care is one of the leading diagnostics laboratories and is the first of its kind to offer a comprehensive range of all diagnostics facilities under one roof. Total Diagnostics Care has emerged as a pioneer in diagnostic medicare in Delhi/NCR. It provides high-quality service in a caring and compassionate environment.
Location – Wz-68a, Mukerjee Park, Chaukhandi, Tilak Nagar, New Delhi, Delhi – 110018
Sparkle Diagnostics & Imaging
Sparkle Diagnostics and Imaging provides you with quality radiology and pathology services at very affordable rates. The entire team lead by Dr. Vipul Sehrawat (MBBS, MD Radio-diagnosis) is well trained and holds ample experience in providing you medical diagnostics services at their center and at your doorstep.
Location – Flat 78A, Pocket, 2, Sector 6 Rd, DDA Flats, Pocket 2, Sector 6 Dwarka, Dwarka, Delhi – 110075
Dr. Sarwan Diagnostic Lab
Dr. Sarwan Diagnostic Lab offers a wide range of medical tests at their center at reasonable prices with the motive of serving society in the best manner possible. They are a one-stop-shop for all your medical needs and they are determined to maintain high-quality Imaging and Diagnostic Services.
Location – G-33, Ground Floor, Vardhman Crown Mall, Sector 19 Bees Suthar, Road, Dwarka, Delhi – 110075
Sanjeevani Dwarka Path Labs
Through their relentless focus on quality, Sanjeevani Dwarka Path Lab strives to provide their customers with the highest standard of services available without any bias. Scientific advances, a professional and ethical code of conduct as well as the drive to go an extra step are the measures they take to ensure that their vision is met. Further, they wish to make diagnostic services comfortable by providing high-class laboratories.
Location – S-32,33,87, 2nd Floor, Manish Global Mall, Plot No. 2, Sector -22, Dwarka, New Delhi – 110075
Ayushman Ultrasound & Diagnostics
Ayushman Ultrasound & Diagnostic has a well-equipped clinic with all the modern equipment which is famously known for offering excellent patient care. They are one of the leading laboratories which provide the best-in-class medical services and deliver high standards of diagnostic services and report authenticity.
Location – 368-A, Pocket L Dilshad Garden Rd, Pocket J & K, Dilshad Garden, Delhi – 110095
Dr. Mittal's Diagnostic Centre
Dr. Mittal's Diagnostic Centre was started back in 1995 by Dr. Rakesh Mittal, M.D. (Radio-Diagnosis); armed with ample experience in Radiology and the ambition to provide quality medical diagnostic healthcare facilities in Rohini, North Delhi. Having completed over 20 successful years, it has now grown to become one of the leading ISO 9001:2000 certified diagnostic centers and pathology labs in Delhi.
Location – 193/C-8, Pocket C8,, Sector 8, Rohini, New Delhi, Delhi – 110085
About Ultrasound Scan
Ultrasound Sonography Scan is a non-invasive imaging technique that uses sound waves to capture live images of our internal organs through an Ultrasound diagnostic device. Ultrasound Test helps to detect and diagnose various abnormalities such as
Gallstones

Digestive problems

Abnormalities in the pregnancy

Cancer

Blockage in blood vessels
As it does not use any kind of radiation, it is most commonly done at different stages of pregnancy to examine the health of the fetus. The internal parts of our body are examined through an ultrasound scan that uses high-frequency radio waves.
Why An NT Ultrasound Test Is Prescribed?
NT Ultrasound Scan is used to detect any chromosomal abnormalities in the fetus during the 11th – 14th week of pregnancy period. It is commonly done to examine the health condition of the fetus and, a doctor can also recommend an NT Ultrasound scan for the following reasons
To confirm the exact date of the pregnancy and the due date;

To confirm the number of fetuses (single or multiple);

To confirm that the fetus is growing appropriately and appears to be developing normally;

If there is a prior history of pregnancy with a fetal abnormality;

If there are genetic conditions in the family.
Prerequisites For NT Ultrasound Test
Generally, there are not any prerequisites for the NT Ultrasound test. You need to take 1 – 1.5 liters of water one hour before the test, ensure you have a full bladder but not uncomfortably full. This helps in producing ultrasound images more accurately.
Other topics you may be interested in:-