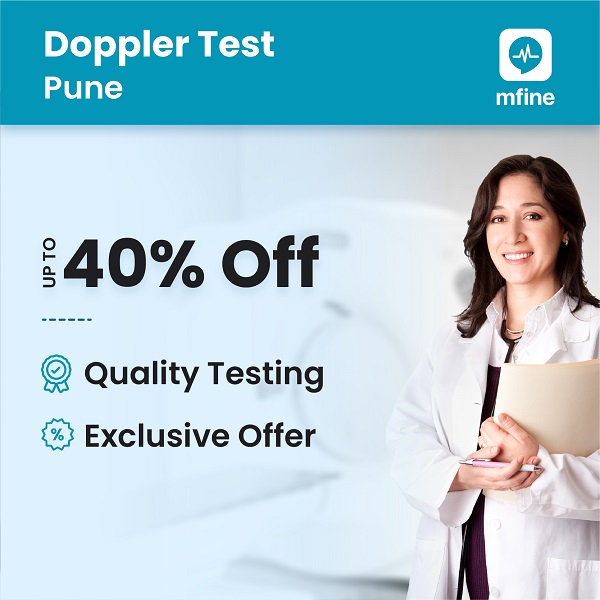 A Doppler test uses high-frequency sound waves that help to evaluate the blood flow in the veins and arteries and to assess any blood clots in your bloodstream.
We offer you multiple lab options, an excellent discount of 40%, and assured quality for your Doppler Test in Pune.
Doppler Test in Pune by MFine
Trust of booking through one of India's largest e-health players 

7,500+ Doppler Tests completed 

Starting from ₹1500

15+ lab options including Nidan Diagnostics, Shree Hospital, and many more

₹10 lakhs saved in last 3 months
Generally, the market price of the Doppler Test Cost in Pune is above ₹3500 but with us, You can get it for ₹1500 only. 
Avail of this exclusive offer by calling us on
Or you can click on the button below for us to call you back. 
Additionally, you will get a free online doctor consultation after making a booking. 
The following is the list of the most common Doppler Tests done in Pune and their offer price. Note that the prices mentioned below may vary. Call us to know the updated prices.
| | |
| --- | --- |
| Doppler Test Cost in Pune | Cost through Us |
| Carotid Doppler  | ₹1500 |
| Scrotal Doppler  | ₹1500 |
| Renal Doppler | ₹1500 |
| Single Limb Arterial Doppler  | ₹1800 |
| Single Limb Arterial And Venous Doppler  | ₹4000 |
| Single Limb Venous Doppler  | ₹1800 |
| Abdomen Doppler  | ₹2000 |
| Obstetric Doppler  | ₹1500 |