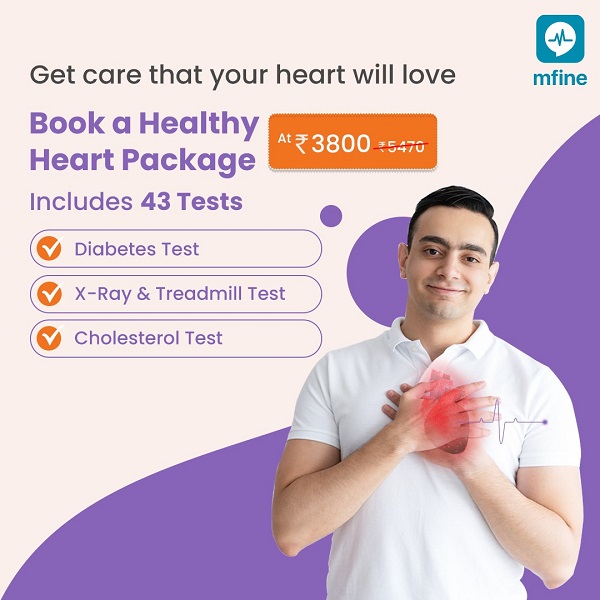 The heart plays a vital role in carrying oxygen and other essential nutrients to every part of the body. And, it is important to keep your heart healthy to stay healthy. Our Healthy Heart health check helps you to evaluate your heart condition effectively.
This package covers 43 parameters including both radiology and pathology tests covering heart, liver, kidney, etc to evaluate and prevent any heart disease at an early stage.
Call us on the below number to know more and evaluate your heart condition at an exclusive discount of flat 30% discount in SRL diagnostics – the most trusted lab in India.
Or you can click on the button below for us to call you back.
Additionally, you will get a free online doctor consultation on the test report
Parameters Covered In Health Check
The healthy heart health check covers the crucial 43 parameters that may directly or indirectly affect your heart condition.
Diabetes
HbA1C (Glycosylated Hemoglobin)
Heart
Chest X Ray
ECHO
Tread Mill Test (TMT)
Hemogram
Absolute Basophils Count
Absolute Eosinophils Count
Absolute Lymphocytes Count
Absolute Monocytes Count
Absolute Neutrophils Count
Basophils
Blood Group (ABO and RH)
Eosinophils
Erythrocyte Sedimentation Rate (ESR)
Hemoglobin (Hb)
Lymphocytes
MCH
MCHC
MCV
Monocytes
MPV
Neutrophils
P – LCR
PCT
Peripheral Smear Examination
Platelet count
Platelet Distribution Width
RBC Count
Total WBC Count (TLC)
Kidney
Blood Urea Nitrogen (BUN)
BUN : Creatinine Ratio
Serum Creatinine
Serum Urea
Urea : Creatinine Ratio
Uric Acid
Lipid Profile
HDL (Good Cholesterol)
HDL : LDL Cholesterol Ratio
LDL (Bad Cholesterol)
LDL : HDL Choletserol Ratio
Non HDL Cholesterol
TC ( Total Cholesterol ) : HDL Cholesterol Ratio
Total Cholesterol
Triglycerides
VLDL Cholesterol