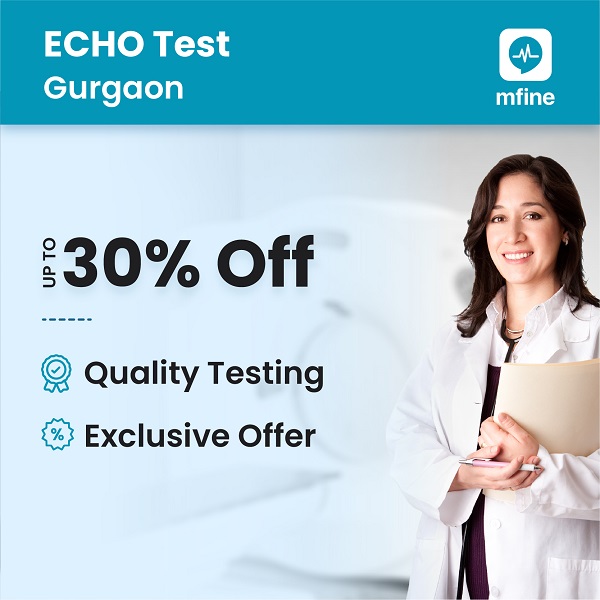 ECHO / Echocardiography test is the most common test procedure for cardiology checkups that helps to gain information about the heart. Cardiac Echo is also known as Echocardiography, it is a painless procedure that uses ultra-high frequency sound waves to track and produce images of your heart.
We offer you high-quality lab options, and an excellent discount of up to 30%, for your Echo test in Gurgaon.
Echo Test in Gurgaon by MFine
Trust of booking through one of India's largest e-health players

5,500+ Echo tests completed

₹1530 – Lowest price in the market

Multiple lab options including Mahajan Imaging, SRL Diagnostics, and many more

₹5 lakh saved in last 3 months
Generally, the market price of an Echo Test Cost in Gurgaon is ₹1,800 but with us, you can get it for ₹1,530 only.
Avail of this exclusive offer by calling us on
Or you can click on the button below for us to call you back.
Additionally, you will get a free online doctor consultation after making a booking.
The following is the price of Echo Scan in Gurgaon. Note that the prices mentioned below may vary. Call us to know the updated prices.
| | | |
| --- | --- | --- |
| Echo scan in Girgaon | MFine Price (In Rs) | MRP (In Rs) |
| SRL Diagnostics, Sector 18 | 1530 | 1800 |
Call us on

08061970525

to know the lab options near your place in Gurgaon and make a booking at your convenient time.
Why should I book Echo Test through MFine?
India's leading health tech company specializing in doctor consultations

3 lakh+ patients served so far

400+ labs and hospitals in our panel

1100+ radiology modalities offered

Money-back guarantee if anything goes wrong

120+ corporates trust us for the health checks of their employees
About Echo Test
The echocardiography/ECHO test is widely used for a diagnostic procedure in cardiology. An echocardiogram is recommended for many reasons including:
To know about the size and shape of the heart,

The pumping capacity of the heart and,

The functioning of heart valves.
It can also help in detecting many abnormalities of the heart like hypertrophic cardiomyopathy, dilated myopathy, and valvular defects.
During the standard echocardiogram procedure, you will be requested to lay down on your left side or on your back on the provided examination table. The physician will apply a gel to your chest to help in proper projection and tracking of the sound waves and eliminate air between your skin, using a probe called a transducer.
After applying gel to the chest, the transducer slowly moves around your chest to take pictures of your heart. The doctor may ask you to hold your breath for a short while or to switch positions to obtain clearer and better images.
The echo test is a safe and reliable test.
Prerequisites For Echo Test
No special preparations are required.
Other Topics You May Be Interested In:-