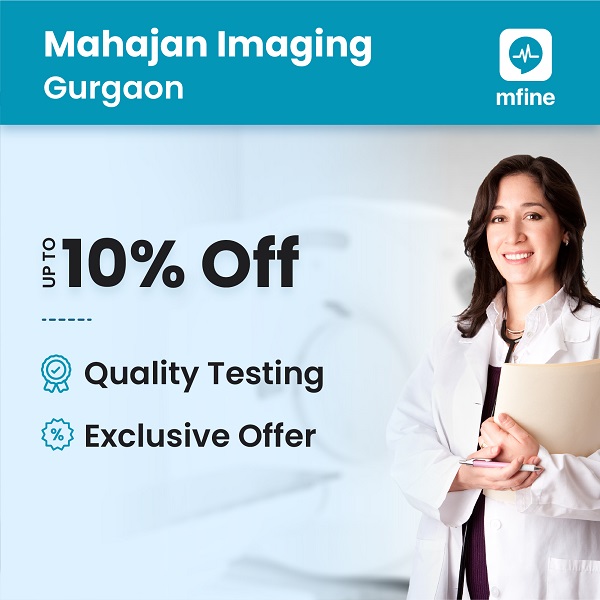 Mahajan Imaging is a renowned name in radiology testing for over 20 years in Delhi. We have tied up with them to bring to you exclusive discounts on their medical tests including MRI, CT, Ultrasound, X Rays, ECHO, and more…
Get 10% Off and save up to ₹5,000 on various tests. We will not only get you the discount, but we will also get the preferred time slot for your tests. 
Call us now to book your test
Or you can click on the button below for us to call you back.
Additionally, you will get a free online doctor consultation after making a booking. 
Why should I book my test through MFine?
Trust of booking through one of India's largest e-health players 

Get a 10% discount and huge savings at Mahajan Imaging

Assistance in getting an appointment and booking the tests

Service available at 5 Mahajan Imaging labs

Highly trained customer care team
Mahajan Imaging, Gurgaon
The most common and frequently booked tests at Mahajan Imaging, Sushant Lok 1, Gurgaon Centre are listed in the table below. 
| | |
| --- | --- |
| Key Medical Tests at Mahajan Imaging, Gurgaon | Cost Through Us |
| MRCP Scan | ₹6400 |
| 3T MRI Scan Brain | ₹7440 |
| 3T MRI Scan Brain With Contrast | ₹10700 |
| 3T MRI Scan Knee Joint | ₹7440 |
| 3T MRI Scan Spine Lumbar | ₹7440 |
| 3T MRI Scan Chest | ₹7440 |
| 3T MRI Scan Ankle Joint | ₹7440 |
| 3T MRI Scan KUB | ₹7440 |
| Ultrasound Upper Abdomen | ₹1120 |
| Ultrasound KUB | ₹1440 |
| Ultrasound Obstetrics | ₹2000 |
| Doppler Obstetrics | ₹3920 |
| X-Ray Chest | ₹400 |
| X-Ray Spine Cervical | ₹400 |
| Dexa Scan – One Site | ₹1440 |
| Mammography Breast Single | ₹1600 |
| ECHO | ₹3200 |
| Stress Echo  | ₹4800 |
| Holter Monitor | ₹2790 |
| PFT ( Pulmonary Function Test ) | ₹1860 |
| TMT | ₹2000 |
Mahajan Imaging – Delhi's Most Admired Imaging Lab Chain
Mahajan Imaging was started in the year 1991 by doctor Harsh Mahajan. The first center was set up in Hauz Khas Enclave. The center aimed to bring the best of radiology and imaging tests to the public of Delhi. The center has succeeded in this aim right from its inception.
Mahajan Imaging center was the first radiology lab to be established in North India for MRI scans. MRI scanning was gauged as a very hi-tech imaging technique at that time. Today, Mahajan Imaging is reckoned as a pioneer in labs as they have equipped with the latest MRI machines including open MRI in Delhi.
Mahajan Imaging radiology laboratories are accredited by NABH (National Accreditation Board for Hospitals). NABH certification is a leading award given only to the best radiology labs and hospitals in India.
Key Radiology Tests At Mahajan Imaging
Each center conducts many radiology modalities machines including
MRI Scans – 3 Tesla, 1.5 Tesla, and Open MRI

CT Scans including CBDT Scan

Dexa Scan for bone health

Various kinds of X Rays

Ultrasound and Dopplers

Nuclear Medicine Tests like DTPA Scan, Dimercaptosuccinic Acid Scan, DPI Scan, and SPECT Scan are conducted at Ganga Ram Hospital and Fortis
Location In Gurgaon 
Mahajan Imaging Centre in Gurgaon, Sushant Lok 1 is the newest addition to the Mahajan portfolio. This center is located close to the HUDA city center and this will be the nearest metro station.
Other Topics You May Be Interested In:-