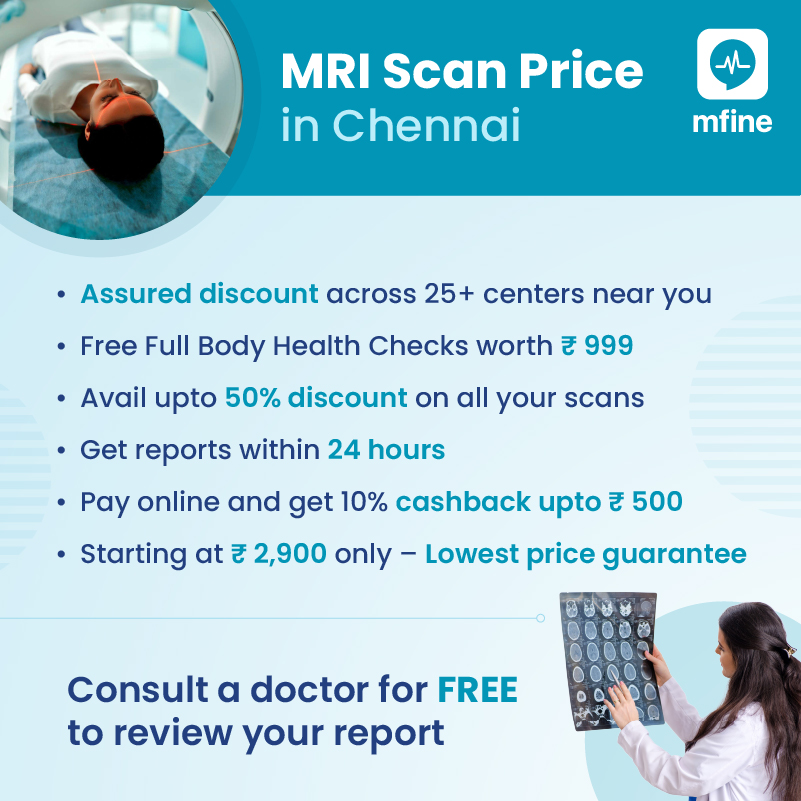 Are you looking for affordable MRI scan costs in Chennai? Look no further than MFine. Currently, MFine is offering up to a 50% discount on MRI scan costs in Chennai, so you can save money while still getting high-quality lab options for your scan. 
Don't miss out on this amazing offer!
MRI Scan in Chennai by MFine
Trust of booking through one of India's largest e-health players 

20,000+ MRI scans completed 

Starting at ₹ 2900 & Lowest Price Guarantee

Multiple labs options, including Aarthi diagnostic, Prima diagnostic, Ebisu diagnostic, Image diagnostic, and Clumax diagnostic

₹ 75 lakhs saved in last 3 months
The market cost for an MRI scan in Chennai is usually over ₹7500. However, with MFine, you can avail it for just ₹ 2900 only. 
To avail of this exclusive offer, simply call us at
 ☏08061970525. 
Alternatively, you can click on the button below, and we will contact you.
In addition, upon booking your scan with us, we will also provide a FREE consultation with a doctor online.
MRI Scan Cost in Chennai
Below, we have compiled a list of the most frequently performed MRI scans in Chennai and their discounted prices. Please note that these prices are subject to change. Contact us to learn about the latest prices.
| | |
| --- | --- |
| MRI Scan Cost List In Chennai | Offer Price |
| Brain MRI Scan Cost in Chennai | ₹2900 |
| Spine MRI Scan Cost in Chennai | ₹2900 |
| Knee MRI Scan Price in Chennai | ₹2900 |
| Chest MRI Scan Price in Chennai | ₹3650 |
| Ankle MRI Scan Cost in Chennai | ₹2900 |
| MRI Elbow Price in Chennai | ₹2900 |
| MRI Shoulder Price in Chennai | ₹2900 |
| MRI Whole Abdomen Price in Chennai | ₹4500 |
| MRI Neck Price in Chennai | ₹3650 |
| MRI Brain Contrast Price in Chennai | ₹4253 |
| MRI Chest Contrast Price in Chennai | ₹6300 |
| MRI Spine Contrast Price in Chennai | ₹5400 |
To find out the available lab options near your location for an MRI test in Chennai and make a booking at your convenience, please call us at 08061970525.
Why should I book an MRI through MFine?
India's leading health tech company specializing in doctor consultations

3 lakh+ patients served so far

400+ labs and hospitals in our panel

1100+ radiology modalities offered

Money-back guarantee if anything goes wrong

120+ corporates trust us for the health checks of their employees
Exclusive Benefits with MFine
(1) Certified labs
Get access to over 600+ labs certified by NABL and NABH
(2) Same-day slot available
Get scans done on the same day
(3) Quick and convenient
Get reports in 12 hours and digital films in 15 – 20 minutes
(4) FREE Consultation
Post scans, consult a doctor for free to review your report
About MRI Scan
An MRI scan is a medical imaging technique that uses powerful magnets and radio waves to create detailed images of your internal organs. The best part is it's safe and non-invasive, as it doesn't involve any harmful radiation like X-rays or CT scans.
During an MRI, the technology makes use of hydrogen atoms present in your body to create detailed images of your organs.
How does this work?
Most diseases manifest themselves by an increase in the water content in your body*. 
So therefore, since your body is primarily made up of water which contains hydrogen atoms, any changes in the water content of an internal organ can help MRI detect abnormalities in that particular organ.
MRI scans are incredibly useful for diagnosing and monitoring various medical conditions. It can help with neurological disorders, injuries to joints and soft tissues, abdominal and pelvic issues, and even detecting tumors.
If you need more information or want to schedule an MRI scan, just let us know! We're here to help.

Types of MRI scans
There are several types of MRI scans available, each serving specific purposes:
(1) Functional MRIs
fMRI, also known as Functional Magnetic Resonance Imaging, is a specialized type of MRI scan that studies brain activity and function. This method measures changes in blood flow and oxygen levels in the brain, providing valuable insights into brain activation during specific tasks or stimuli.
By monitoring the brain's reaction to different mental activities, fMRI supports the comprehension of neural connections and pinpoints the regions of the brain in charge of language, recollection, motion, and feelings. This secure and non-invasive method is extensively utilized in neuroscience investigations and assists healthcare professionals in preparing for brain surgeries.
(2) Magnetic Resonance Venography
MRV, or Magnetic Resonance Venography, is a specialized MRI technique that allows visualization of veins and blood flow within the body. It is often used to detect and evaluate conditions like DVT, venous insufficiency, and vascular malformations.
When undergoing the MRV procedure, a contrast agent may be given through an IV to improve the clarity of blood vessel visualization. The highly detailed and clear images obtained from MRV help in the identification of venous disorders and provide valuable guidance for treatment options.
(3) Breast Scans
Breast MRI, which stands for Breast Magnetic Resonance Imaging, is an additional imaging method that aids in detecting and evaluating breast cancer. It is especially useful for assessing breast irregularities, identifying breast cancer in individuals at high risk, and determining the spread of cancer in patients already diagnosed with breast cancer.
Breast MRI offers a detailed view of breast tissue, which is especially valuable in cases where mammography or ultrasound results are inconclusive. However, it is not recommended as a routine screening tool for all women and is typically reserved for specific indications.
(4) Cardiac MRI
A Cardiac MRI is a type of MRI scan that focuses on the heart and the cardiovascular system. This scan produces detailed images of the heart's chambers, valves, and blood vessels, which can reveal any potential abnormalities and provide a comprehensive assessment of heart function.
Cardiac MRI is a common diagnostic tool used to identify a variety of heart conditions, including coronary artery disease, myocardial infarction (heart attack), cardiomyopathies, and congenital heart defects. It is also important in assessing cardiac function both before and after surgical procedures or interventions.
(5) Magnetic Resonance Angiography (MRA)
Magnetic Resonance Angiography (MRA) is an MRI technique that is used to visualize blood vessels and assess blood flow in the body. By utilizing MRA, detailed images of arteries and veins can be produced without the need for invasive procedures such as catheter angiography.
MRA is a standard method used to assess blood vessel abnormalities, detect vascular malformations, and evaluate the blood supply of different organs. It is especially useful in diagnosing aneurysms, arterial stenosis (narrowing), and vascular tumors. MRI scans come in different types, each with its unique advantages and essential roles in the diagnostic and treatment planning process for various medical conditions.
Prerequisites for MRI
To ensure a smooth and accurate MRI scan, patients should be aware of the following prerequisites beforehand:
Medical History and Allergies

: Please inform the medical staff of any allergies, past surgeries, or health conditions you have. Some conditions or metallic implants may require extra precautions or different imaging techniques. It's important to provide this information to ensure your safety and proper treatment.

Metallic Objects

: To ensure safety and clear images, patients undergoing MRI scans must remove all metallic items from their bodies. This includes jewelry, piercings, and hairpins, as the magnetic power of the MRI can interact with these objects and pose risks to the patient's safety and the accuracy of the images obtained.

Fasting Instructions

: In certain situations, it may be necessary to fast before undergoing an abdominal MRI scan. This is done to improve the quality of the images by minimizing any disruptions caused by food in the digestive system.

Claustrophobia Concerns

: If you're worried about being in a small space, it's important to let the medical team know before undergoing an MRI scan. Some MRI machines are enclosed, and this can cause claustrophobia in some people. However, there are techniques and mild sedatives that can help you stay calm during the procedure. So, it's best to speak with the medical team beforehand to ensure that you have a comfortable and safe experience.
Patients can ensure the accuracy and safety of their MRI scan by following these prerequisites. This can result in improved diagnostic outcomes and subsequent medical management.
FAQs
What is a CT scan vs MRI?
CT scan (Computed Tomography) uses X-rays to create cross-sectional images of the body, suitable for detecting bone and tissue abnormalities. MRI (Magnetic Resonance Imaging) uses magnets and radio waves for detailed images of soft tissues and organs.
Compared to a CT scan, MRIs do not use ionizing radiation, making them a safer option.
Read CT scan vs MRI blog. Which is better?
What is the cost of a full body scan in Chennai?
The cost of a full body scan in Chennai can vary widely depending on the facility and type of scan, ranging from INR 10,000 to INR 50,000 or more. But with MFine, you can get an MRI scan full body done at a discount of upto 50% off. 
What does a full-body MRI show?
A full-body MRI can provide detailed images of various organs, tissues, and structures throughout the body, helping to detect abnormalities or diseases.
Is a CT or MRI more expensive?
MRI scans are generally more expensive than CT scans due to the higher cost of equipment and technology involved.
Does MRI show nerve damage?
Yes, MRI can show nerve damage and is an effective imaging technique for assessing nerve-related conditions and injuries.
Other topics you may be interested in: