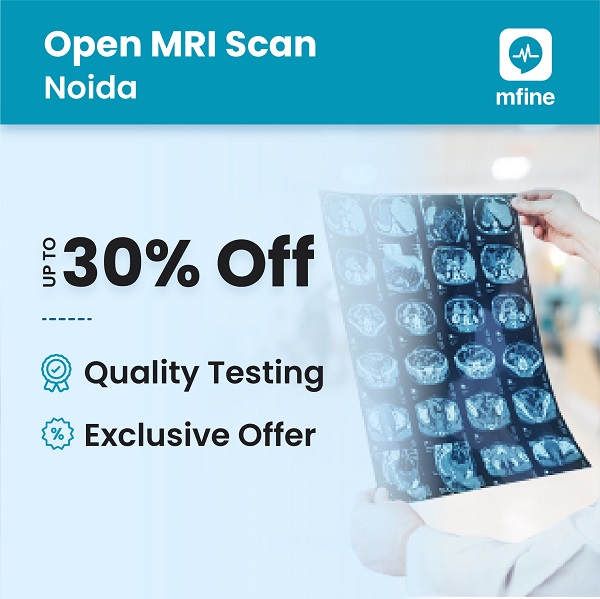 Magnetic Resonance Imaging is the full form of an MRI Scan. MRI Scans are a special type of scan that uses advanced magnetic rays to penetrate the human tissue and capture a detailed image of a body part. Patients with claustrophobia can go for an open MRI scan.
We offer you high-quality lab options, and an excellent discount of 30%, for your Open MRI Scan in Noida.
Open MRI Scan in Noida by MFine
Trust of booking through one of India's largest e-health players 

5,000+ Open MRI scans completed 

₹5,096 – Lowest price in the market

Multiple labs options including Mahajan Imaging, Indogulf, BR Diagnostics, and many more

₹15 lakhs saved in last 3 months
Generally, the market price of an Open MRI Scan is ₹7,500 but with us, you can get it for ₹5096 only. 
Avail of this exclusive offer by calling us on
Or you can click on the button below for us to call you back. 
Additionally, you will get a free online doctor consultation after making a booking. 
The following is the list of the most common Open MRI scans done in Noida and their offer price. Note that the prices mentioned below may vary. Call us to know the updated prices.
| | |
| --- | --- |
| Open MRI Scan | Prices Starting From |
| Reclined Open MRI Scan Price in Noida | ₹5096 |
| Standing Open MRI Scan Price in Noida | ₹5152 |
Call us on 08061970525 to know the lab options near your place in Noida and make a booking at your convenient time. 
Why should I book Open MRI through MFine?
India's leading health tech company specializing in doctor consultations

3 lakh+ patients served so far

400+ labs and hospitals in our panel

1100+ radiology modalities offered

Money-back guarantee if anything goes wrong

120+ corporates trust us for the health checks of their employees
What Is An Open MRI Scan?
Unlike the regular MRI machines, which are closed and tunnel-shaped, the Open MRI machine is open from three sides. If you experience claustrophobia (a common phobia, where people are afraid of closed spaces, being in crowded places, or like afraid to stay in a room with no window/door) you can make use of this facility, to get their scan done without any anxiety which they experience to get into the closed MRI machine. Also, patients who are obese, have to get tested with Open MRI as the only option, due to their gigantic anatomy where imaging with regular MRI machines is not possible.
Generally, Open MRIs are classified into two types, they are –
Standing Open MRI.

Reclined Open MRI.
Standing Open MRI Scan
In a Standing MRI machine, as the name suggests, you can get the MRI scanning done by either standing up or sitting down. With this method, the following are some key advantages of the open standing MRI
 1) It helps reduce the anxiety –
Open Standing MRI is a great alternative for patients who have a fear of closed places as it is open from three sides.
 2) For overweight patient –
For patients who are obese and can not enter the regular closed MRI, Open MRI does the job.
 3) Great Imaging for MRI of spine, knee, or leg –
Open standing MRI is better because, in a standing position, the spine, knee, or leg are under the natural pressure of gravity. Thus, Images are better in the standing position than lying flat on a table.
However, there are some disadvantages to this technique, they are – a) Open MRI procedure cannot be considered for taking MRI Brain/Head. b) the magnetic field projected from the machine is lower than the fields used in closed machines.
Reclined Open MRI Scan
In the case of a reclined Open MRI machine, you are asked to lay down on the table that slides into the machine, but the machine is open from three sides. Hence, it helps to reduce anxiety significantly.
Our Lab Partner who has a network in Delhi, Noida, and Gurgaon has a reclined open MRI machine – Kohli Imaging in East of Kailash has a 0.25-Tesla Open MRI machine. Reclined Open MRI machines can do almost all of the MRI scans except for MRI Chest and, perfusion and diffusion studies.
What Is The Purpose Of An Open MRI Scan?
Similar to a normal MRI scan, an open MRI scan is also done to detect and diagnose various medical conditions, such as
Stroke

Aneurysm

Injuries

Infection

Spinal cord injuries

Kidney or liver disorders

Brain damages

Heart diseases
An open MRI is also done to help the surgeons before surgery and to monitor the success of it.
Are There Any Preparations For An Open MRI Scan?
Usually, there are no special prerequisites for an open MRI scan. You can continue with your normal diet and your regular activities. However, a few hours of fasting is required if any contrast material is used. The contrast material will be either given orally or injected into the vein, this helps to produce more accurate/contrast images.
You will be requested to take off metallic objects such as jewelry, watch, clips, etc before entering the MRI room, as it may interfere with the waves.
Procedure For An Open MRI Scan
Unlike the normal MRI which has magnets in an enclosed capsule, the open MRI has magnets attached to the top and the bottom.
To begin the scan, you will be asked to lay down flat on a sliding table attached along with the MRI machine. Then, the radiologist will begin the imaging process, the magnets on the machine will produce a strong magnetic field. These signals will be turned into images with the help of a special computer connected to the nearby room from where the radiologist will be operating. 
Usually, MRI is a long process and can take about 60-90 minutes depending on your study.
Is Any Complication Involved In The Scan?
Open MRI is considered safe as compared to the other imaging methods, there are little-no risks involved in an open MRI scan.
Few people may develop some kind of allergic reaction if the contrast dye is used in the procedure. Besides, there are no complications in an open MRI scan.
Other Topics You May Be Interested In:-