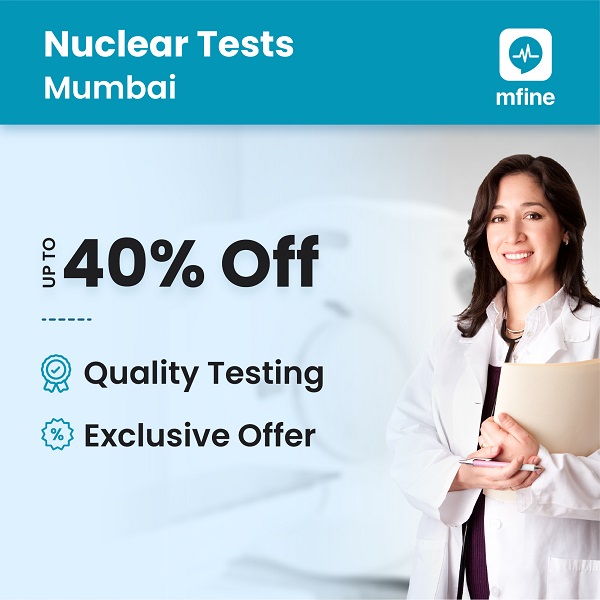 Prostate-Specific Membrane Antigen (PSMA) PET CT scan is an advanced imaging technology that helps to detect and diagnose prostate cancer.
DOTA PET CT Scan is prescribed to detect Neuroendocrine Tumors (NET) that develop in the pancreas, intestines, stomach, and more, spreading at different rates.
DOPA PET CT Scan is used to detect and diagnose Parkinson's Disease – a neurological disorder that affects the neurons in the brain.
F-18 Bone PET CT Scan is advanced imaging that helps in diagnosing bone metastatic disease, a condition where cancer from an organ has spread to the bones.
We offer you high-quality lab options and an excellent discount of 40% for your DOTA, DOPA, PSMA PET CT, and F-18 Bone PET CT Scan Costs in Mumbai.
PSMA, DOTA, DOPA, And F-18 Bone PET CT Scans In Mumbai by MFine
Trust of booking through one of India's largest e-health players

8,000+ PET CT scans completed

Starting from ₹21,375 – Lowest price in the market

20+ lab options including Medcare, Jeeyo PET CT Imaging, and many more

₹25 lakhs saved in last 3 months
Generally, the market price of a PET CT scan is more than ₹25,000 but with us, you can get it for ₹21,375 only.
Avail of this exclusive offer by calling us on
Or you can click on the button below for us to call you back.
Additionally, you will get a free online doctor consultation after making a booking.
The following is the list of most commonly booked PET CT Scans in Mumbai and their discounted price. Note that the prices mentioned below may vary. Call us to know the updated prices.
| | |
| --- | --- |
| PET CT Scan Cost in Mumbai | Offer Price |
| PSMA PET CT Scan Cost in Mumbai | ₹22,000 |
| DOTA PET CT Scan Cost in Mumbai | ₹27,360 |
| DOPA PET CT Scan Cost in Mumbai | ₹27,500 |
| F-18 Bone PET CT Scan Cost in Mumbai | ₹21,375 |
Call us at 08061970525 to know more lab options near your place in Mumbai and make a booking at your convenient time.
Why should I book PET CT Scan through MFine?
India's leading health tech company specializing in doctor consultations

3 lakh+ patients served so far

400+ labs and hospitals in our panel

1100+ radiology modalities offered

Money-back guarantee if anything goes wrong

120+ corporates trust us for the health checks of their employees
About PET CT Scan
Cancer can be quite unpredictable with traditional scanning because each type of cancer cell having its own set of behavioral characteristics. PET CT scan is a combination of Computed Tomography (CT) and Positron Emission Tomography (PET). PET CT Scan is a state of art imaging technology that accurately detects cancer even in its early stages.
PSMT PET CT Scan
PSMA PET CT Scan is an advanced imaging mechanism that helps in detecting the recurrence of prostate cancer after radical prostatectomy. PSMA PET CT Scan is superior to conventional imaging tests such as CT scans or bone scans.
PSMA PET CT helps in the following medical conditions –
A new diagnosis of prostate cancer – patients with a high risk for prostate cancer are required to take PSMA PET CT Scan to start the surgical or oncologic treatment plan to cure cancer.
Recurring prostate cancer during/after treatment – patients where the prostate-specific antigen (PSA) levels are rising despite the current definitive therapy, this scan can help find sites of recurrent or metastatic disease that could be treated with targeted therapy such as surgery or radiation instead of systemic therapy.
DOTA PET CT Scan
DOTA PET CT Scan also known as Gallum-68 DOTATATE scan uses a radiopharmaceutical tracer that can capture Neuroendocrine Tumors (NETs). NETs can be hard to predict and detect, as they develop anywhere in the body, such as the pancreas, intestines, stomach, and more, spreading at different rates.
DOTA PET CT scan is of its kind technologies, significantly better than the other options available, allowing for accurate and precise detection of NETs. It is an extremely advanced technology, that in fact, the scan detects the smallest of lesions quite early, which allows an appropriate treatment plan to be set in place for successful treatment response.
DOPA PET CT Scan
DOPA PET CT scan is performed for anatomical detail, which is used specifically in the area of the brain to detect Parkinson's disease and to visualize advanced Neuroendocrine Tumors (NETs).
Parkinson's disease the second most common progressive neurological disorder that affects neurons, resulting in memory loss, slow movement, tremors, and impaired balance conditions often make the individual fall. Parkinson's disease is more commonly seen in elderly people who are above the age of 60.
F-18 Bone PET CT Scan
In certain medical conditions where cancer keeps a low profile and starts spreading to other organs. Sometimes, cancer from an organ can also spread to the bones – this condition is called bone metastatic disease. An F-18 Bone PET CT Scan is prescribed to detect and diagnose changes due to diseases originating in the bones or due to spread from cancers or other diseases in several parts of the body.
F-18 sodium fluoride (NaF) is a radiotracer that is used during the F-18 Bone PET CT Scan that helps in deriving accurate images that detect the metastatic disease to the bone with better accuracy than any other conventional bone scanning.
How Is The PET CT Scan Performed?
Step 1: Talking about the procedure of a PET CT Scan, at the beginning of the procedure, a tiny amount of radioactive material (which helps in projecting accurate images) is injected into the body. It is not a painful process or the patient does not feel any different.
Generally, the radioactive substance will automatically dissolve and absorbed by the body within an hour. The patient is required to wait until then. Patients can consume water in the meantime and it is recommended to avoid coffee or tea.
Step 2: Around an hour later, the patient is taken to a PET CT scan machine room and asked to lie on a table there. After lying in position, the horizontal table moves upwards into the machine and the patient will move into the imaging machine. This machine has a wider and larger opening than an MRI.
Once you are inside the machine, the radiologist starts the process, X-ray beams will pass through your body. The Radiologist will be monitoring the entire process from a nearby room with the help of a connected special computer that will use the signals and convert them into an image.
The entire procedure will take up to 60 minutes.
Are There Any Prerequisites For These PET CT Scans?
Following are some of the preparations required before the PSMA, DOTA, DOPA, and F-18 Bone PET CT Scans.
Fasting for at least 2-3 hours before the test. However, this is exceptional if you are taking an F-18 Bone PET CT Scan.

Remove any jewelry like watches, chains, pocket knives, etc.

Avoid any intense and strenuous physical activity or exercise 24 hours before the scan.

If you have any previous medical records like the old PET-CT report, it is advisable to carry them along to the lab.

Report the lab 30 minutes prior to the scheduled time and you may be required to remain for at least 4 hours in the lab from the scheduled time.
Other than this there are no special preparations required, however, if you are pregnant or expected to get pregnant, then a PET CT scan should not be performed, as the rays may affect the growing fetus.