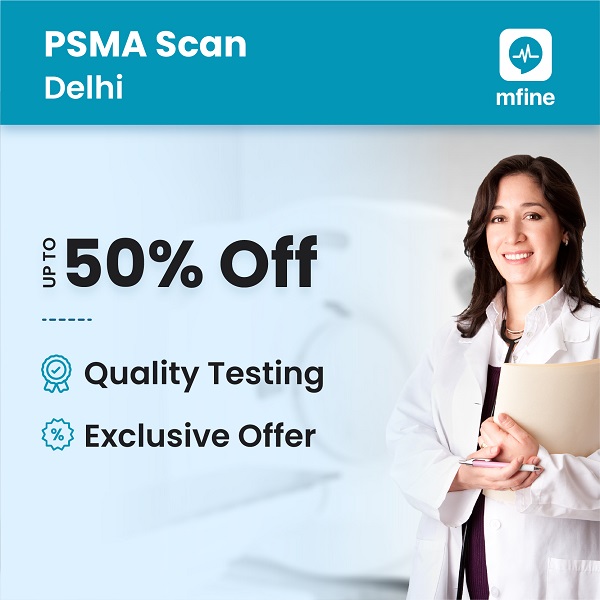 Prostate-Specific Membrane Antigen (PSMA) PET CT scan is an advanced imaging technology that helps to detect and diagnose prostate cancer.
We offer you high-quality lab options and an excellent discount of 50% for your PSMA Scan Cost in Delhi.
PSMA PET CT Scan in Delhi by MFine
Trust of booking through one of India's largest e-health players 

8,000+ PSMA PET CT scans completed 

Starting from ₹16,000 – Lowest price in the market

20+ lab options including Ganga Ram, DIFI, Molecular Imaging, and many more

₹25 lakhs saved in last 3 months
Generally, the market price of a PSMA PET CT scan is above ₹22,000 but with us, you can get it for ₹16,000 only. 
Avail of this exclusive offer by calling us on
Or you can click on the button below for us to call you back. 
Additionally, you will get a free online doctor consultation after making a booking. 
About PSMA PET CT Scan
PSMA PET scan is a combination of Computed Tomography and Positron Emission Tomography. PSMA PET CT Scan is an effective tool to detect the recurrence of prostate cancer after radical prostatectomy.
You will be requested to lie down on a table that slides into the PET CT machine. Once you are inside the machine, the radiologist starts the process, X-ray beams will pass through your body. The Radiologist will be monitoring the entire process from a nearby room with the help of a connected special computer that will use the signals and convert them into an image.
The entire procedure will take up to 60 minutes.
Prerequisites For PSMA PET CT Scan
There are no prerequisites for the PSMA PET CT scan.
Other Topics You May Be Interested In:-