30% Off On Fibroscan Test Cost In Delhi: From ₹2136 Only – Call 080619 70525 To Book Now!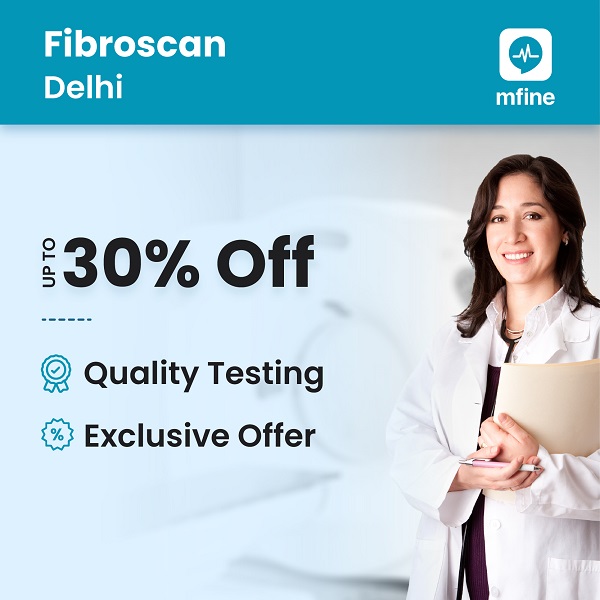 [ninja_form id=11]
Fibroscan is a specialized ultrasound test to capture live images and conditions of our liver. An Ultrasound Fibrosis test helps to assess the health of your liver.
We offer you multiple lab options, an excellent discount of up to 30%, and assured quality for your Ultrasound Fibroscan Price Delhi.
Fibroscan in Delhi by MFine Trust of booking through one of India's largest e-health players 7,500+ Ultrasound Fibroscan Tests completed Same Slots Available Starting from ₹2136 only 15+ lab options including Mahajan Imaging, City X-Ray, BR Diagnostics, and many more ₹10 lakhs saved in last 3 months
Generally, the market price of the Ultrasound Fibroscan is above ₹3000 but with us, you can get it for ₹2136 only.
Avail of this exclusive offer by calling us on
Or you can click on the button below for us to call you back.
Additionally, you will get a free online doctor consultation after making a booking.
Why should I book an Ultrasound Fibroscan through MFine? India's leading health tech company specializing in doctor consultations 6 lakh+ patients served so far 600+ labs and hospitals in our panel 1100+ radiology modalities offered Money-back guarantee if anything goes wrong 120+ corporates trust us for the health checks of their employees
Our Network Labs Mahajan Imaging BR Diagnostics Sparkle Diagnostics & Imaging Dr. Sarwan Diagnostic Lab Sanjeevani Dwarka Path Labs Ayushman Ultrasound & Diagnostics Call us on 08061931521 to know the Price List and Labs near your place in Delhi and make a booking at your convenient time. High Quality And Certified Labs In Delhi
About Ultrasound Fibroscan Test
Fibroscan will help your doctor or physician provider learn more about liver disease. It can be prescribed separately or additional tests along with other blood tests, imaging scans, or biopsies that also measure scarring or fatty change in your liver. Ultrasound Fibroscan measures fibrosis (scarring) and steatosis (fatty change) in your liver. It is generally used to analyze other health conditions of your liver such as;
Liver inflammation due to liver sickness or alcohol consumption.
Suspected of any cancerous or non-cancerous (Benign) tumors in your liver.
Heart failure can result in Liver congestion where your liver overgenerates enzymes and become congested with too much blood or other fluids
An Ultrasound Fibroscan uses high-frequency radio waves to examine the liver condition in our body. Ultrasound Fibroscan shows results in CAP and Fibrosis scores. Your CAP score is a measurement of fatty change in your liver, and your Fibrosis score is the measure of the amount of scarring in your liver.