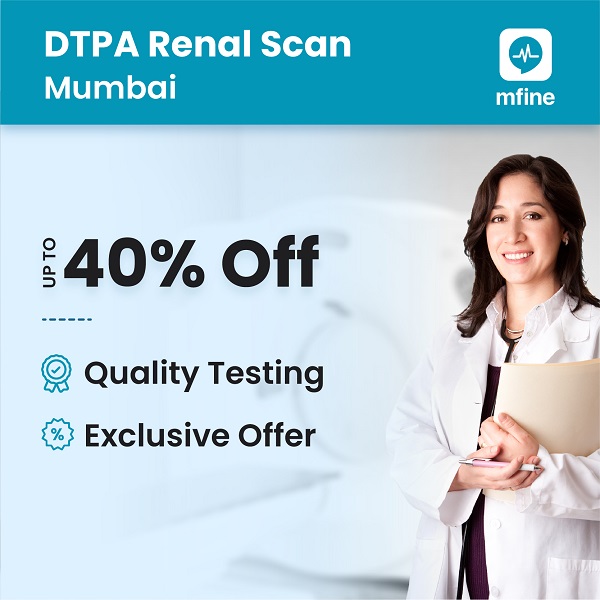 DTPA Scan (Diethylene Triamine Pentaacetic Acid) which is also called DTPA Renal Scan is a nuclear imaging technique done to evaluate the functioning of the kidney. A radioactive material called radioisotope will be injected into the vein to trace the drainage pattern and to detect any problem.
We offer you multiple lab options, an excellent discount of 40%, and assured quality for your DTPA Renal Scan in Mumbai.  
DTPA Scan in Mumbai by MFine
Trust of booking through one of India's largest e-health players 

6,000+ DTPA scans completed 

₹4655 – Lowest price in the market

15+ lab options including JEEYO Nuclear Imaging and other certified labs

₹25 lakhs saved in last 3 months
Generally, the market price of a DTPA Renal Scan Cost in Mumbai is above ₹7000 but with us, you can get it for ₹4655 only. 
Avail of this exclusive offer by calling us on
Or you can click on the button below for us to call you back. 
Additionally, you will get a free online doctor consultation after making a booking. 
About DTPA Scan
It is an effective tool to detect functional and structural abnormalities in the kidneys such as cysts, tumors, swelling, renal arterial blockage, kidney failure, etc.
A technician will inject radioisotope into the vein in your arm a few hours before the test. You will be asked to remain still throughout the scan, as any movement may affect the image. The scanner will pick the signals of radioisotope and send them to a computer to generate a detailed image.
You may be asked to take angiotensin-converting enzyme (ACE) medication during the scan to examine the functioning of the kidney before and after the medication.
A soft tube called a catheter will be used in case of an empty bladder requirement.
There is no restriction on diet before or after the scanning process, you can continue with your normal diet. The radioisotope injected for imaging purposes will be excreted by the kidney naturally. You may be required to intake more liquids for this.
Why should I book a DTPA Renal scan through MFine?
India's leading health tech company specializing in doctor consultations

3 lakh+ patients served so far

400+ labs and hospitals in our panel

1100+ radiology modalities offered

Money-back guarantee if anything goes wrong

120+ corporates trust us for the health checks of their employees
Prerequisites for DTPA Scan
The following is the prerequisite of the DTPA scan.
In the case of any previous checkup, carry all the recent doctor prescriptions & medical reports to the lab.
Other Topics You May Be Interested In:-