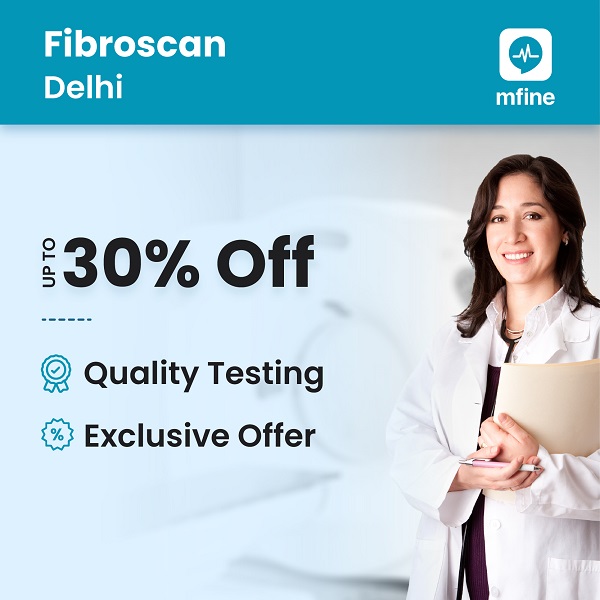 Fibroscan is a specialized ultrasound test to capture live images and conditions of our liver. An Ultrasound Fibrosis test helps to assess the health of your liver.
We offer you multiple lab options, an excellent discount of up to 30%, and assured quality for your Ultrasound Fibroscan Price Delhi.
Fibroscan in Delhi by MFine
Trust of booking through one of India's largest e-health players 

7,500+ Ultrasound Fibroscan Tests completed 

Ultrasound Fibroscan Price Delhi – Starting from ₹2136 only

15+ lab options including Mahajan Imaging, City X-Ray, BR Diagnostics, and many more

₹10 lakhs saved in last 3 months
Generally, the market price of the Ultrasound Fibroscan is above ₹3000 but with us, you can get it for ₹2136 only. 
Avail of this exclusive offer by calling us on
Or you can click on the button below for us to call you back.
Additionally, you will get a free online doctor consultation after making a booking. 
Why should I book an Ultrasound Fibroscan through MFine?
India's leading health tech company specializing in doctor consultations

3 lakh+ patients served so far

400+ labs and hospitals in our panel

1100+ radiology modalities offered

Money-back guarantee if anything goes wrong

120+ corporates trust us for the health checks of their employees
High Quality And Certified Labs In Delhi
Mahajan Imaging
Mahajan Imaging, established in the year 1991, aims at providing the best quality highest-end imaging in a patient-friendly environment. The center is a one-stop shop for all imaging and screening needs and provides special high-end preventive health packages to know if all is well. Their goal is to provide high-quality integrated healthcare and medical services to the public. The doctors and staffs in the center are well qualified and highly experienced, providing premium service with the best advice and clear understanding.
Branches of Mahajan Imaging
Mahajan Imaging, Pusa Road – 7B, Upper Ground Floor, Main, Pusa Rd, Rajinder Nagar, New Delhi- 110005.
Mahajan Imaging, Defence Colony – E 19, Main, Ring Rd, Block E, Defence Colony, New Delhi – 110024.
BR Diagnostics
BR Diagnostics is well known for providing exemplary physical and emotional care for each of its patients and their families. They are known to treat their patients with utmost care with an experienced staff and doctors with hygiene and comfort of their patients as their utmost priority.
Location – E- 510, Greater Kailash 2, Opp JMD Kohinoor Mall, Delhi – 110048.
Clearmedi Health Pvt Ltd.
Hamdard Imaging Centre is a comprehensive radio diagnostics center managed by ClearMedi Healthcare at Jamia Hamdard Hospital in South Delhi. The Centre is operational 24/7 and provides a range of radiology services. Hamdard Imaging Centre is accredited by NABH. It is equipped with the latest state-of-the-art equipment and is managed by experienced Radiologists and Technicians. Patients requiring CT and MRI can avail of the free pick and drop facility provided by the Centre.
Location – HAH Centenary Hospital, Jamia Hamdard, Nagar Delhi 110062.
City Imaging And Clinical Labs
City Imaging and Clinical Labs prioritize the use of a multidisciplinary approach with ethical practices by a team of highly responsive, caring, and efficient professionals with a constant focus on excellence in delivering the best medical services in patient care, continuous up-gradation of services, best and accurate reporting and to deliver benchmark quality in Diagnostics.
Branches of City Imaging
City Imaging, Tilak Nagar- 4B, 18, near Haldiram Sweets, opposite Metro Pillar Number 492, Tilak Nagar, New Delhi – 110018.
City Imaging, Palam Village – RZ-1B, Puran Nagar, Block J, Raj Nagar, New Delhi – 110045.
City X-Ray & Scan Clinic Pvt Ltd
City X-Ray & Scan Clinic Pvt Ltd in Delhi is one of the leading businesses in the Pathology Labs. Also known for Pathology Labs, Diagnostic Centres, Blood Testing Centres, X-Ray Centres, Radiologist Doctors, Digital X-Ray Centres, Hormone Testing Centres, Computerised Pathology Labs, and much more.
Branches of City X-Ray & Scan Clinic
City X-Ray & Scan Clinic, Tilak Nagar – 5A/34, Tilak Nagar, Najafgarh Road, New Delhi – 110018.
City X-Ray & Scan Clinic, Naraina – Nariana Center, A 41/1 Nariana Vihar, New Delhi – 110028.
City X-Ray & Scan Clinic, Vikaspuri – A12, Vikaspuri, New Delhi – 110018.
SBR Diagnostics
SBR Diagnostics is equipped with a team of highly qualified doctors and technologists, all necessary state-of-art medical instruments, and a well-trained team of non-technical and supporting staff. It is determined to maintain High-Quality Imaging and diagnostic services. The center is recommended by NABH and other quality control authorities. And they deliver high standards of diagnostic services and report authenticity.
Location – C-61, Preet Vihar, Vikas Marg, Near Metro Pillar No.79, Delhi – 110092.
About Ultrasound Fibroscan Test
Fibroscan will help your doctor or physician provider learn more about liver disease. It can be prescribed separately or additional tests along with other blood tests, imaging scans, or biopsies that also measure scarring or fatty change in your liver. Ultrasound Fibroscan measures fibrosis (scarring) and steatosis (fatty change) in your liver. It is generally used to analyze other health conditions of your liver such as;
Liver inflammation due to liver sickness or alcohol consumption.

Suspected of any cancerous or non-cancerous (Benign) tumors in your liver.

Heart failure can result in Liver congestion where your liver overgenerates enzymes and become congested with too much blood or other fluids 
An Ultrasound Fibroscan uses high-frequency radio waves to examine the liver condition in our body. Ultrasound Fibroscan shows results in CAP and Fibrosis scores. Your CAP score is a measurement of fatty change in your liver, and your Fibrosis score is the measure of the amount of scarring in your liver.
Why An Ultrasound Fibroscan Is Prescribed?
Ultrasound Fibroscan is an effective way to examine the health condition of your liver. It is commonly prescribed to detect and diagnose if you have any of the following liver issues
Hepatitis B

Hepatitis C

HIV/HCV Coinfection

Cholestatic disease

Alcohol-related problems

Non-Alcoholic fatty liver disease (NAFLD or NASH)
Prerequisites For Ultrasound Fibroscan
Generally, for the Ultrasound Fibroscan Test fasting is required for at least 3 hours to obtain clear results.
Other Topics You May Be Interested In:-