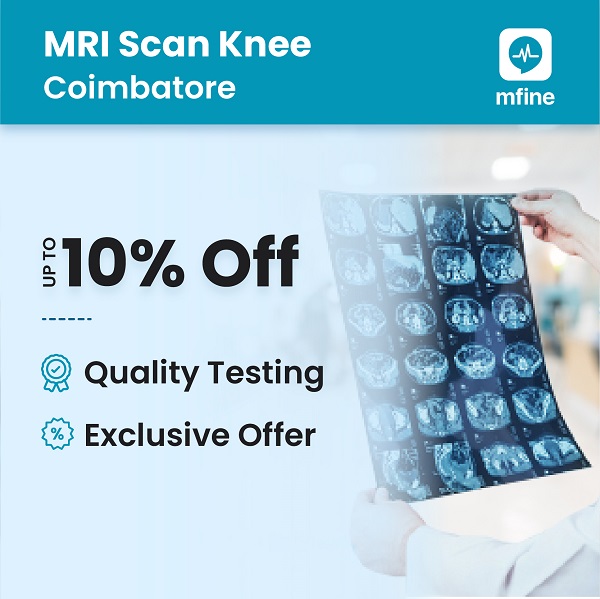 MRI Knee Scan or Magnetic Resonance Imaging Knee is a special type of scan that uses magnetic rays to create a detailed image of the knee.
MFine offers you high-quality lab options, and an excellent discount of 10%, for your MRI Knee Scan in Coimbatore.
MRI Scan Knee in Coimbatore by MFine
Trust of booking through one of India's largest e-health players

7,500+ MRI knee scans completed

₹3600 – Lowest price in the market

Multiple labs options

₹15 lakhs saved in last 3 months
Generally, the market price of an MRI Scan Knee Cost in Coimbatore is above ₹6500 but with us, you can get it for ₹3600 only.
Avail of this exclusive offer by calling us on
Or you can click on the button below for us to call you back.
Additionally, you will get a free online doctor consultation after making a booking.
The following is the discounted price of an MRI knee scan in Coimbatore. Note that the prices mentioned below may vary. Call us to know the updated prices.
| | |
| --- | --- |
| MRI Knee Cost In Coimbatore | Offer Price |
| MRI Knee Price in Coimbatore | ₹3600 |
Call us on 08068172507 to know the lab options near your place in Coimbatore and make a booking at your convenient time.
Why should I book MRI through MFine?
India's leading health tech company specializing in doctor consultations

3 lakh+ patients served so far

400+ labs and hospitals in our panel

1100+ radiology modalities offered

Money-back guarantee if anything goes wrong

120+ corporates trust us for the health checks of their employees
About MRI Knee Scan
Knee MRI Scan is a sophisticated imaging process that helps in analyzing medical conditions and figuring out where exactly the injury is and whether the knee needs to undergo surgery in any of the different parts around the knee such as
The bones

Tendons

Muscles

Cartilages

Ligaments

Blood vessels
MRI scans will provide a detailed image compared to other imaging techniques like X-rays. And it is also quite safe as it does not use any kind of radiation to examine the knee.
How Is The Scan Performed?
MRI machine has a sliding horizontal table that slides into the imaging chamber after you lay down flat on the table. Once you are inside the magnets in the machine will start rotating around the body part that is being diagnosed. This will create a strong electromagnetic field and these signals will be picked up and sent to a special computer to process into an image.
A radiologist will be watching the entire imaging process from a nearby chamber with the help of a mic and speakers. Usually, it will take up to 90 minutes to complete the entire procedure depending on your study.
An MRI scan is generally safe compared to other imaging techniques that use radiation. But, that can be assured to certain limitations. Patients who had any previous heart surgery implanting artificial heart valves or any kind of metallic implants like clips, plates, etc are restricted from taking an MRI scan.
Prerequisites For MRI Knee Scan
The following are the prerequisite for an MRI scan knee if the contrast dye is used in the procedure.
Minimum 4 hrs fasting required before the scan.

Blood Urea and Creatinine report are to be taken with you (latest report).

In case of any prior consultation or medical/scan reports take those reports to the lab.
Other Topics You May Be Interested In:-