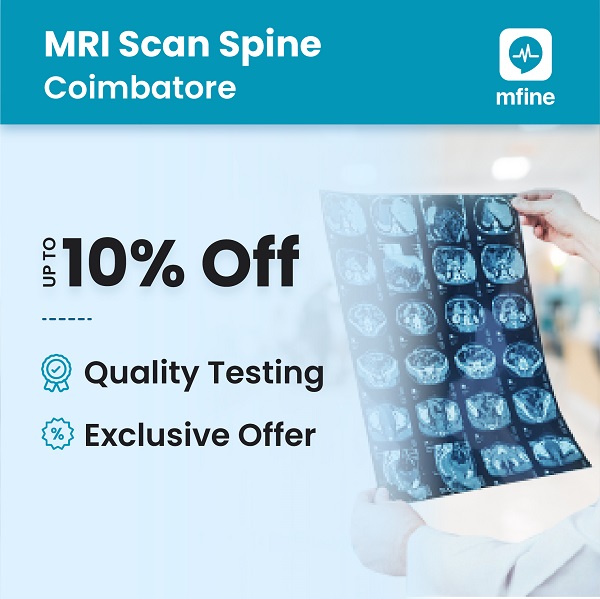 MRI Spine Scan or Magnetic Resonance Imaging Spine is a special type of scan that uses magnetic rays to create a detailed image of the spine.
MFine offers you high-quality lab options, and an excellent discount of 10%, for your MRI Spine Scan in Coimbatore.
MRI Scan Spine in Coimbatore by MFine
Trust of booking through one of India's largest e-health players

6,500+ MRI spine scans completed

₹3600 – Lowest price in the market

Multiple lab options

₹15 lakhs saved in last 3 months
Generally, the market price of an MRI spine scan is above ₹6000 but with us, you can get it for ₹3600 only.
Avail of this exclusive offer by calling us on
Or you can click on the button below for us to call you back.
Additionally, you will get a free online doctor consultation after making a booking.
The following is the list of the most common MRI spine scans done in Coimbatore and their offer price. Note that the prices mentioned below may vary. Call us to know the updated prices.
| | |
| --- | --- |
| MRI Scan Spine Cost In Coimbatore | Offer Price |
| MRI Whole Spine Price in Coimbatore | ₹5906 |
| MRI Cervical Spine Price in Coimbatore | ₹3600 |
| MRI Dorsal Spine Price in Coimbatore | ₹3600 |
| MRI Lumbar Spine Price in Coimbatore | ₹3600 |
Call us on 08068172507 to know the lab options near your place in Coimbatore and make a booking at your convenient time.
Why should I book MRI through MFine?
India's leading health tech company specializing in doctor consultations

3 lakh+ patients served so far

400+ labs and hospitals in our panel

1100+ radiology modalities offered

Money-back guarantee if anything goes wrong

120+ corporates trust us for the health checks of their employees
About MRI Spine Scan
MRI Spine is all about a study of the complete spinal cord i.e. neck (cervical), the back (lumbar), and the dorsal region.
MRI machine is high-tech medical equipment that is used to create an intense oscillating (alternating) magnetic field, which transmits multiple radio frequencies to spotlight the muscles and any irregular tissue damage during the specific area/organ inspection. The machine looks like an open hollow cylinder, which has a sliding bed on the open side for the patient to lie down. After the patient lies down, he/she is sent inside the cylindrical chamber, the radiologist operates the machine from the control room. The machine emits radio waves to capture the images, which are then sent to the connected computers. Printouts can be taken to study the abnormalities further.
A full spine MRI includes a complete scanned image of the entire vertebral anatomy, starting from the cervical neck down to the dorsal area of the spine. An MRI scan of the spine not only captures the images but also gives the results of disc height, spinal alignment, nerves, canal size, and depicts any abnormalities. MRI spine scanning can be done on either a 1.5 Tesla or a 3 Tesla machine.
Why MRI Spine Scan Is Prescribed?
A doctor will ask to take an MRI scan of the spine due to any of the following circumstances:
Neck injuries

Constant bowing of neck at the workplace

Heavy lifting activities

Holding the neck in a particular position for lapsed hours, without any tilting or movement.

Repetitive stress

Genetic history

Smoking

Obesity

Inactivity

Uncomfortable pain during normal activities such as sitting, standing or sneezing, coughing & tilting the neck's position

Muscle weakness

Stiffness of neck

Headaches in the back of the head

Tingling pain or numbness in shoulders and arms

Loss of balance

Loss of bowel or bladder control

Constant and severe aching in the lower back

Numbness in the groin area

Stiffness in mid back

Tingling in legs, arms, hands, or feet.

Loss of coordination
Prerequisites For MRI Spine Scan
Before approaching the MRI scan, one must make sure the following things are in place:
You should not be pregnant.

You should not have any skin tattoos.

Metallic items like jewelry, phone, knives, etc. must be removed.
Other Topics You May Be Interested In:-